2015-06-25
Flottweg Celebrates Its 10,000th Decanter
At Flottweg, there's reason to celebrate again. It's the completion of the 10,000th decanter! As part of a large festive occasion, the 530 employees at the Vilsbiburg location presented the "anniversary centrifuge". The machine will be used in the United States for the treatment of wastewater.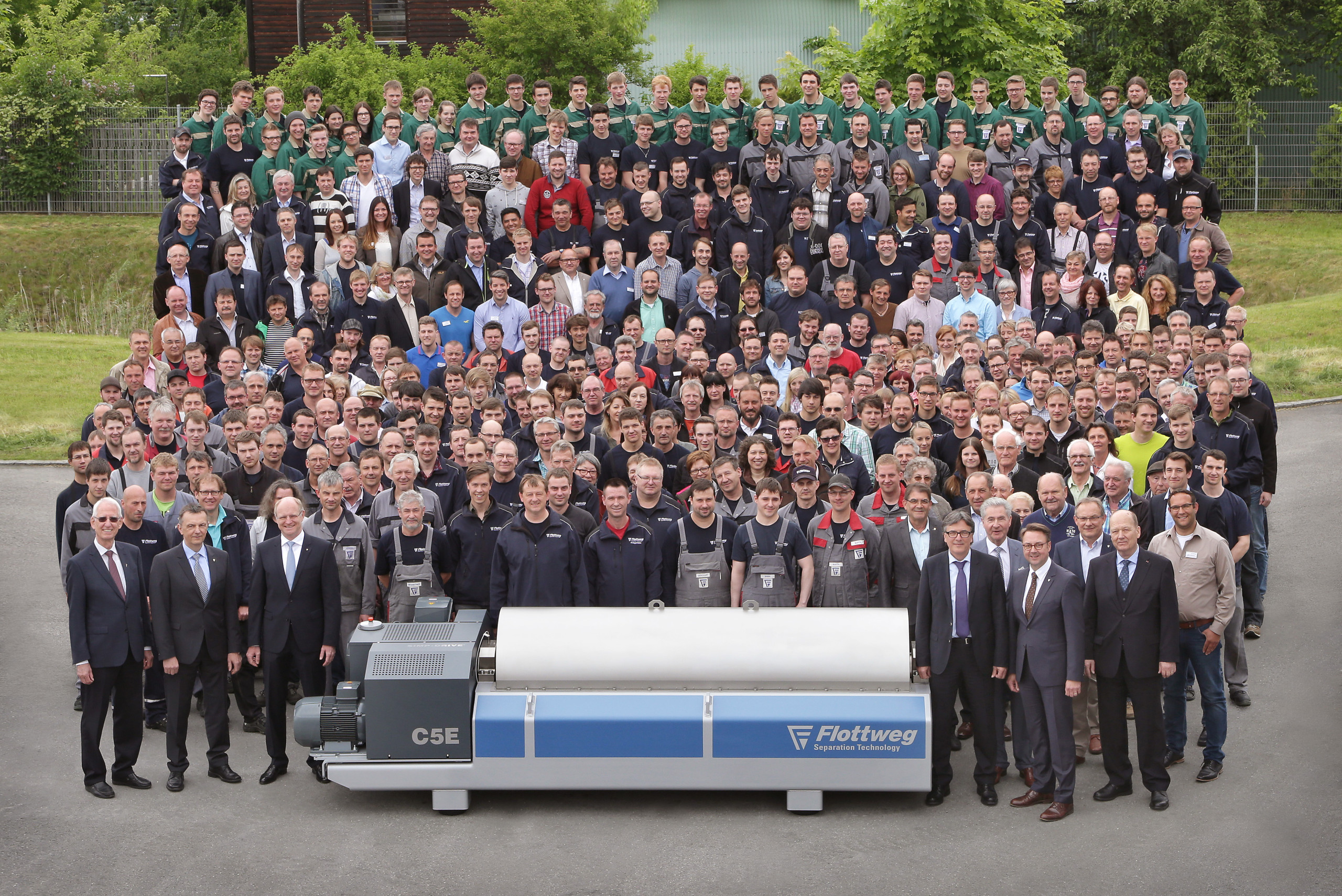 Flottweg can look back on many years of history. In 1932, Dr. Georg Bruckmayer first purchased the rights to the protected name "Flottweg" to found the Flottweg Motoren-Werke. Flottweg initially manufactured engine components for motorcycles and aircraft. During the Second World War, due to the bombardment of Munich, its original headquarters, the company moved to the Lower Bavarian town of Vilsbiburg. In the 50's, Flottweg finally began to develop the first centrifuges. In 1956, the first Flottweg Decanter was delivered to BASF AG in Ludwigshafen. And in the meantime, we've produced 9,999 more machines. "This positive trend is surely thanks to our employees worldwide. Our employees feel that they belong to the Flottweg family. That's a very decisive factor," explained Spokesman of the Managing Board Fritz Colesan.
The 10,000th decanter, like most machines from Flottweg, is an export hit. A sewage treatment plant in Lexington, Kentucky placed the order for the machine with the Vilsbiburg team, and over the decades to come it will help clean the wastewater of just about 300,000 inhabitants.
Flottweg continues to be positive about the prospects for the future as well. Sales rose again in 2014. The company is also planning to build a new production building, as well as a Logistics Center South to the west of B299.