2018-11-19
75 Years in Vilsbiburg
Dr. Georg Bruckmayer founded Flottweg Motoren Werke in 1932. In 1943, the company moved from Munich to Vilsbiburg, in Lower Bavaria. Flottweg has produced industrial centrifuges here for 75 years – exclusively in Vilsbiburg.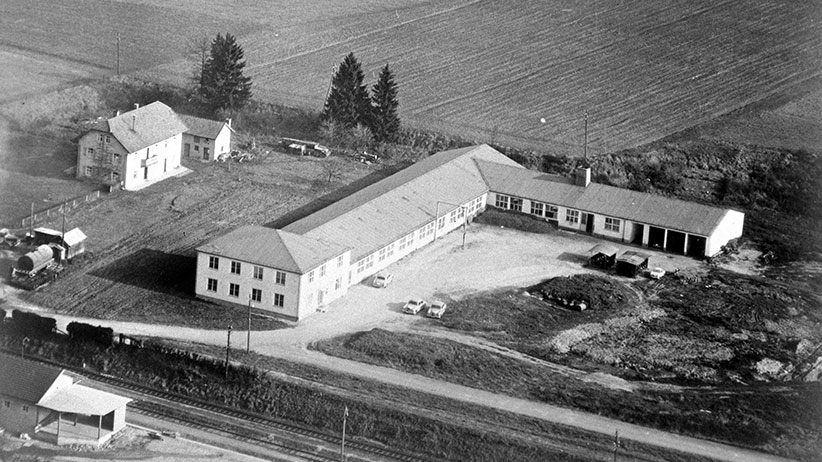 Engineering has been with us since our origin. Since our founding in 1911, we have had a passion for technology and mechanical engineering, beginning with our founder, Gustav Otto, and continuing with Dr. Georg Bruckmayer after 1932. That passion for engineering continues today with the 1,000+ people who comprise the Flottweg Group worldwide.
Technophile Gustav Otto was the first to build double-deckers in North Munich. Then he brought a bicycle with an auxiliary engine to the market. At 2 hp, it got people "briskly on their way" – or as it's said in German, "Flott auf dem Weg" – giving Flottweg its name, which is still used today.
Amidst the chaos of World War II, the company moved to Lower Bavaria. At the time, Flottweg was building not only motorcycles, but also precision parts for German fighter planes.
After the war, German companies were prohibited from manufacturing any arms-related goods such as motorcycles or aircraft. Flottweg had to find a new product to market.
When searching for new products, the precision parts specialist came upon centrifuges. Flottweg has designed and built decanter centrifuges ever since. The first Flottweg decanter was delivered to BASF AG in Ludwigshafen in 1956.
Flottweg quickly moved into the European market, and jumped the pond to the U.S. market in 1984. More subsidiaries followed in China, Italy, Russia, France, Australia, Mexico, Brazil, Poland and Peru. Today, Flottweg is one of the three largest makers of decanters and separators in the world.
The Vilsbiburg location has been a part of Flottweg for 75 years, and will continue to be an important part of the company going forward into the future. Because of this, the company is still convinced of the importance of both Germany in general and its specific location in the Landshut region ... just one more reason to celebrate this anniversary.