2017-09-18
Flottweg Academy – We're Shaping Up
July 31, 2015 saw the official opening of the Flottweg Academy. For two years, our academy has now been training both employees on site as well as our international colleagues and others in workshops, technical seminars, team building courses, and social competence topics. Our customers, too, regularly come to technical training on our Flottweg Machines in-house.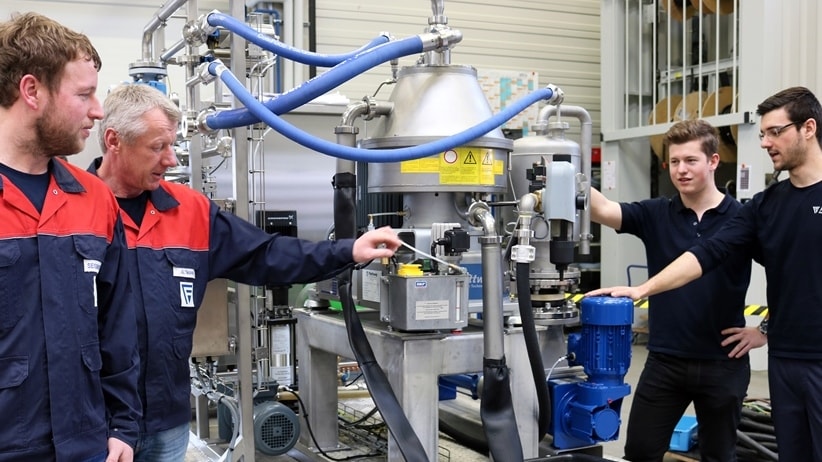 In 2016, customers and employees received training at the Academy on a total of 286 days. In 2017, we have had more than 200 training days so far.
Our customer training courses systematically introduce our customers and employees to our <link internal-link>decanter, <link internal-link>Tricanter®, or <link internal-link>separators for optimum separation success. Our trainers show the correct way to adjust operating parameters as well as how to assemble, dismantle, and service the machine.
Our participants come from a wide variety of application areas – from community sewage treatment plants to the extraction and processing of edible oils and the beverage and food industry.
The result: over 90% of participants are more than satisfied with our training content. <link>Lean more about our customer training courses.
In addition to our customers, the development of our own employees is also important to us. Requirements on the job are always growing. New technologies and processes demand new knowledge. To stay on the ball, the Academy's course calendar features a number of seminars and training courses. From workplace safety to IT to management training, there's something there for everyone. Every employee is supported in his or her own specific area. Our on-boarding events also give new employees an overview of the different divisions of the company to ensure they feel competent from day one at Flottweg.