2016-11-10
Flottweg apprentices have high aspirations – career start for 19 young people
"In the last two years, I have looked at many companies, completed many internships, and gained some experience. I particularly liked Flottweg as I was able to immediately pitch in. This is, why I am here", reports Stefan Kiermeier, one of the 19 young fellows, who were welcomed on September 1st as new apprentices at Flottweg by the Executive Board.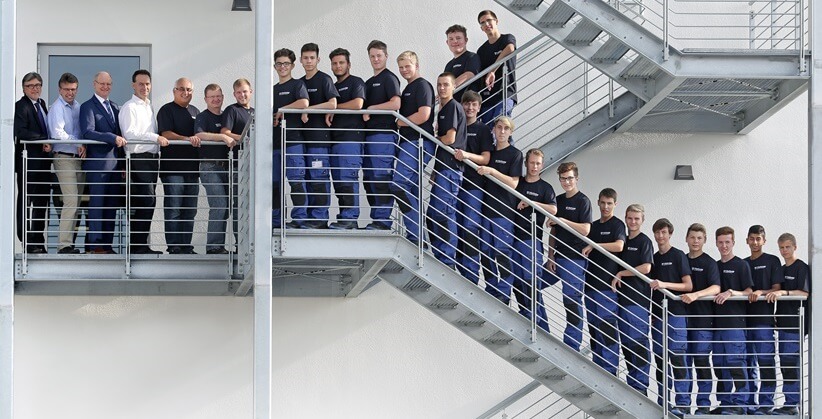 The first weeks of this year's apprenticeship year were already bursting with activities. The first day offered a rally through the company. Here, the new arrivals familiarized themselves with the first departments and contacts. Puzzle pieces had to be collected at every station that were put together into a photo of the company premises in subsequent team work.
As in the previous year, the apprentices attended a camp to get to know one another during the following weeks. The camp took place at the Pallotti House in Freising, where the apprentices had to solve tasks in teamwork and could get to know one another better.
The apprentice workshop has some exciting news as well. The class of 2016 is the first class of apprentices, who can saw, file, and mill in the newly renovated facilities of the apprenticeship workshop.
Flottweg has invested about 300,000 € into equipment for their apprentices over the past year. Those funds paid for more fabrication machines, expansion of the seminar and break rooms, new floors, and a suction system for the newly redesigned welding shop.
The objective is clear. Flottweg wants to create long-term loyalty to the company in its apprentices.
To make the transition from apprenticeship to employment easier, the 15 future industrial mechanical and mechatronics technicians cycle through every department relevant to production. A mentor is available in every department, who is the central contact during the introductory training period and is always available for questions.
Stefan Kiermeier is looking forward to the upcoming tasks: "I am particularly interested in the turning and milling areas."