2018-02-01
The Only Real Power for Sludge Dewatering – The New Flottweg Container Systems
One alternative to dewatering or thickening systems installed permanently in a building are mobile, container-based solutions. Flottweg has rethought the concept of its container systems and reworked them from the ground up. The result is a plug-and-play solution with an entirely new design.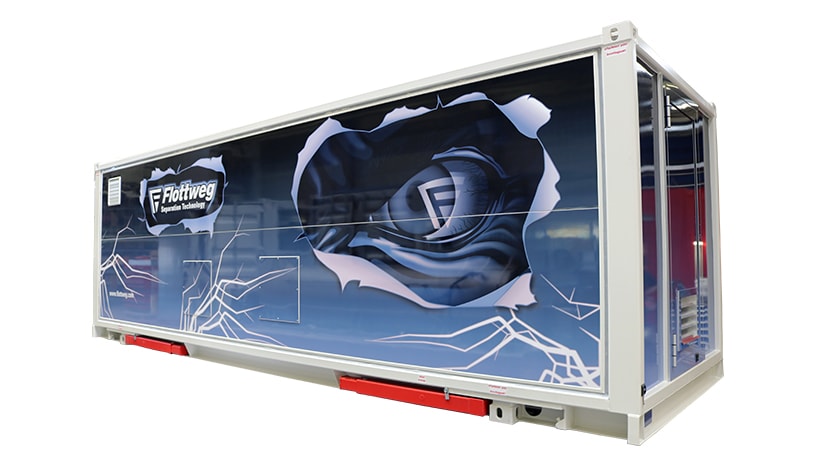 Investment costs for the construction of a new building or to expand existing space can be avoided with these mobile container systems. The containers can be installed long-term or in a semi-mobile mode for a few weeks or months to bridge the gap between needs. Fully mobile use is also an option.
On site, only the intake and discharge lines have to be connected and the system supplied with power. It can then go into operation immediately.
Since the container is connected from the outside, there are no hoses or loose lines needed inside for its operation. That guarantees both operating comfort and safety.
The new design and numerous features such as a crane or a hydraulic lifting mechanism make it possible for a single person to operate the system. Drainage openings and valves make the container easy to clean.
Interior cladding, the container floor, all pipelines, and the decanter centrifuge are made of high-quality stainless steel. That extends the service life of the individual components compared to conventional alternatives. The control cabinet is also made of stainless steel and has a high-quality air conditioning system. It provides optimum protection for sensitive electronic components.
To demonstrate the power of our container under actual consolidation, we offer our mobile systems as rental machines for thorough on-site testing.
The New Mobile Container Systems for Sludge Dewatering Have True Power:
Custom solution – adapted to ambient conditions
Single-person operation with minimum maintenance overhead
Long service life due to the use of high-quality stainless steel
Direct on-site control of the system
On-site testing an option
You can find more information about our mobile container systems for sludge dewatering here