2017-07-31
Flottweg Shows its New High-Performance Separator
Flottweg will present its brand-new AC1200 separator at this year's Drinktec. From September 11-15, 2017, the global trade show of the beverage and liquid food industry will be held in Munich.
We look forward to your visit: Building B3, booth 314!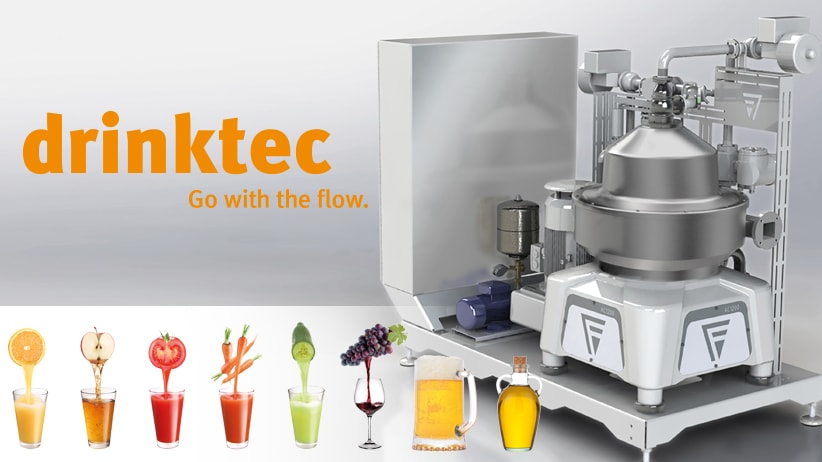 As a driver for innovation and further development, the trade show offers the optimum platform for the new Flottweg AC1200 Separator.
This high-performance separator for small and medium-sized companies represents the beginning of a new product line from Flottweg. Whether for the juice, beer, or olive oil industry, these systems are specially configured and adapted for each of these applications.
The AC1200 sets itself apart with:
High clarification performance
Outstanding product yield
User-friendly handling and simple maintenance
Custom process integration and parameterization
High flexibility with minimal space requirements (the floor area of the skid is only about 2m²)
The Flottweg AC1200 comes standard-equipped with Flottweg's own Soft Shot® discharge system. This system provides product-friendly, low-noise discharge of the separated solids. For optimum product yield, the Soft Shot® allows arbitrary, precise combination of full and partial discharge.
With the AC1200, Flottweg is also embarking on a new era in product design. The design of the separator highlights the core competences of Flottweg: Robustness, quality, and maintenance friendliness.
See for yourself – visit us at Drinktec 2017 in Munich!
What: Drinktec 2017
When: September 11-15, 2017
Where: Building B3, booth 314