2020-10-01
Flottweg Academy's 5th Anniversary
The Academy was established five years ago and has become a valuable part of Flottweg. The Flottweg Academy. Since its founding in 2015, the Academy has flourished. In early 2017 the Academy moved to a new location and has continued to thrive.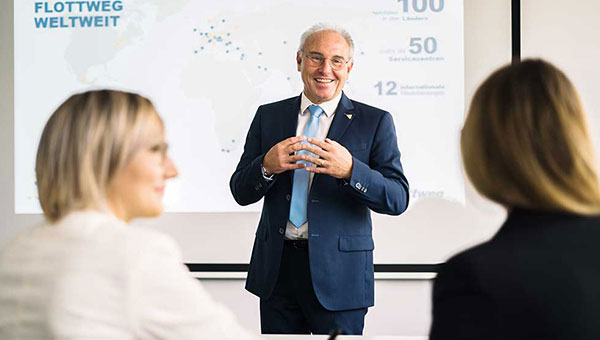 In just five years, the Flottweg Academy established itself as a well recognised and top-performing institution. Both our employees and international customers meet at the Academy, allowing it to be a place for teamwork where we strive for mutual success.
Employee development is a high priority at Flottweg and is an essential part of our corporate strategy. Together, we intend to promote lifelong learning as a response to the demands of a dynamically changing market and evolving global developments.
Over the past five years, Flottweg employees have been able to expand their skills in a total of 1,170 training days offered in more than 660 courses.
With a total of more than 260 customer training days and record revenues alone in 2019, customer training has become one of the cornerstones of the Academy. The many positive reviews and feedback from customers are directed at Flottweg as a whole: More than anything, the family atmosphere at Flottweg is repeatedly praised.
The Academy also offers programs to its subsidiaries and international representatives to help them meet international requirements. Technical knowledge is passed on through decanter and separator training courses offered in English.
This year, the Academy is introducing a new digital Flottweg Campus, which will be open to all Flottweg SE employees. The new educational platform simplifies the administration of courses and allows flexibility for remote learning. The Flottweg Campus is helping Flottweg become even more international.
With the digitization of training and education, our goal is to better prepare ourselves for future challenges, such as the current COVID-19 crisis. New digital learning formats are currently being developed and set up. Customer training is no exception here. Because for us, we see success as being able to provide our customers with the best possible, comprehensive support 24/7.