2018-11-29
New Benefits for Flottweg Customers in Russia
Flottweg Russia continues to innovate its customer experience and raise its service standards in client interactions. We not just continually communicate with clients, but we also are ready and able to provide support of any kind. Now Flottweg Russia has the opportunity to expedite the preliminary stage — scope of supply selection — at the beginning of our interactions with customers.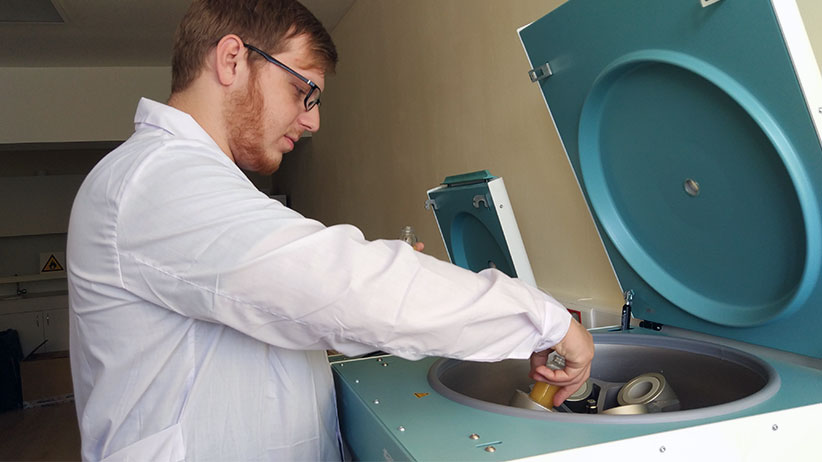 The laboratory in our new office in Khimki has finally commenced construction. In addition to an office building and workshop, the Moscow team has access to some of the industry's most modern laboratory equipment. Today the lab is equipped with the latest instrumentation to conduct lab tests on any customer's original product.
Customers now don't have to send a sample to a Flottweg SE lab to check whether it's possible to use our centrifuges for their operations. Within a few hours, Flottweg Russia can assess whether Flottweg centrifugal separation technology can help a customer solve their problem. Additionally, we can also assess the technological performance of their centrifuge.
Our Moscow team often has to overcome not being able to transport a test sample from a customer to a test center. The original physical and chemical indicators of the product may change during transportation. To solve this problem, Flottweg has a test lab unit capable of testing and analyzing a quality sample at a customer's site.
The lab equipment contains the following:
Lab bench-type centrifuges with heating and cooling
Mobile lab centrifuge
Chloride titrator
Moisture analyzer
Drying cabinet
Analytical scales
pH meter to measure pH at a certain sample temperature
Ultrasonic bath
Water bath
Magnetic stirrers
Viscometer
Portable density meter
Every year, Flottweg aims to improve its expert approach to separation technologies. Only by keeping pace with advanced R&D is it possible to provide optimal solutions that will help to highlight our advantages to clients choosing a manufacturer within this extremely competitive industrial market.
For more than 60 years, with all our energy, passion and knowledge, Flottweg has applied the principle: "ease of use for our customers = our success"!