2019-10-30
From liquid manure to recyclable material
The compact plant MoRoPlant20 from AQUA VIVENDI (a cooperation partner of Flottweg SE) separates liquid manure into solid matter and process water in an energy-saving way before storage. Thanks to a novel "recipe" consisting of additives and Flottweg SE's centrifugal technology, the system separates phosphate and nitrogen with a particularly high efficiency. The dry matter can be used as garden and scatter fertilizer.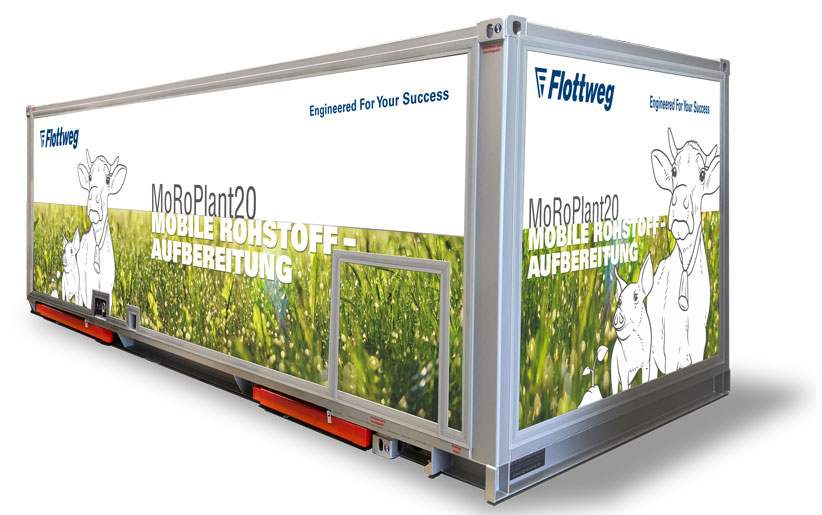 Livestock breeders, agricultural consortia and farm outfitters are looking for new environmentally friendly and economic ways to process pig and cattle manure. A driver of innovative drainage methods is the new Fertilizer Ordinance (DüV), which came into force in 2018 and calls for more environmental protection in agriculture and better groundwater protection. Above all, the phosphate and nitrogen content is problematic when it comes to storage, transport and further processing of the liquid manure.
AQUA VIVENDI presents a simple and efficient solution at the AGRITECHNICA 2019 in Hanover: The MoRoPlant20 treatment system separates liquid manure into solids and process water. The energy-saving compact unit is located in a swap-body container and can be deployed across company boundaries. Special additives consisting of betonite and starch are added before the separation process. The processing then takes place in a compact container system made by Flottweg SE. Through the combination of additives and high-performance separation technology, the MoRoPlant20 achieves a high solids dry substance discharge. Another special feature is the high separation efficiency of phosphate: up to 99 percent phosphate content is bound in the solid material. For nitrogen, the separation rates are over 60 percent (dairy cattle manure) and over 40 percent (fattening pig manure) respectively. The German Agricultural Society (DLG) has confirmed the high separation efficiency with the "DLG recognized" test seal in gold.
Biological manure and sustainable soil improvement
The solids obtained are odorless and can be stored safely. They can be pelletized and sold to horticultural businesses and garden centers as garden or scatter fertilizers. The MoRoPlant20 also offers clear advantages relating to process water: The water is much less aggressive or toxic compared to liquid manure. This significantly reduces the risks involved in storage and the permit conditions relating to odor pollution and fine dust emissions. For example, the process water can be used to irrigate hops and asparagus by means of sprinkling or droplet irrigation. It is also suitable for fertilizing grassland, as the solid matter has been largely removed. Especially in intensively cultivated areas, such as in nitrogen- and phosphate-contaminated soils, the new process can significantly reduce nutrient input. The treatment system thus makes a decisive contribution to improving the protection of groundwater.
Visit us at AGRITECHNICA 2019 and learn more about the MoRoPlant20:
Flottweg SE
Hall 24, booth C35
10th - 16th November 2019
Hanover Exhibition