2017-11-02
Flottweg wins the German Design Award with the New Operating Concept
On Oct. 20, 2017, the German Design Council announced the winners of the German Design Award 2018. Flottweg SE was also among the winners this year. Flottweg received the award for its new operating concept for the control system of decanters, separators and belt presses.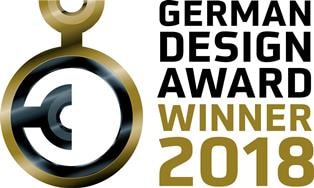 The German Design Award is the international premium award of the German Design Council. Its goal: to discover, present and award unique design trends. Every year, top-class submissions from product and communication design are therefore awarded, which in their own way are groundbreaking in the international design landscape.
The company Flottweg won the award in the category of human-machine interface "Interactive User Experience." The expert jury justified the decision with the innovative user interface, a revolutionary color design and intuitive operating structure.
"Many plant operators and users now come from a generation that grew up with cell phones and PCs. It was time to take a new approach here and to get a pioneering concept for the industry ready for serial production," says Michael Hacker, department head of automation technology, as he justifies the decision to redesign the operating concept.
"With the new operating concept, we have succeeded in setting new standards in the field of machine and system operation. The award with the German Design Award is a sign of great appreciation for the entire team from the automation technology department and Flottweg SE," continues Hacker.
The official award ceremony will take place on February 9, 2018 as part of the Ambiente trade fair in Frankfurt am Main.