2023-03-06
Girls' Day 2023 at Flottweg
Flottweg is once again opening its doors for Girls' Day on 27 April 2023: All girls 5th grade or older and interested in technology will have the opportunity to immerse themselves in the world of mechanical separation technology for a day, gaining valuable insight into various technical professions.
"What is mechanical separation technology?", "What do I need solid-liquid separation for?", or "Where are centrifuges used?" – these questions and many more will be answered at this year's Girls' Day 2023 by Flottweg, one of the world's leading manufacturers of industrial centrifuges for mechanically separating solids and liquids. Flottweg has prepared a colorful program full of different activities for the participants. These girls will have the opportunity to familiarize themselves with the various processes and technologies used to produce Flottweg machines. They will also learn about the Flottweg training workshop as well as technical professions like industrial mechanic or mechatronics technician. In addition, these girls will have the chance to put their skill to the test, working on their own project.
"Our goal is to get girls excited about technical professions and show them the many opportunities open to them in this area. Girls' Day is a great opportunity to give them practical insight into how varied and exciting a career at Flottweg can be. For more than 10 years, we have opened our doors on Girls' Day, inspiring young girls to pursue careers in machine and systems engineering," says Daniel Wimmer, Training Manager at Flottweg.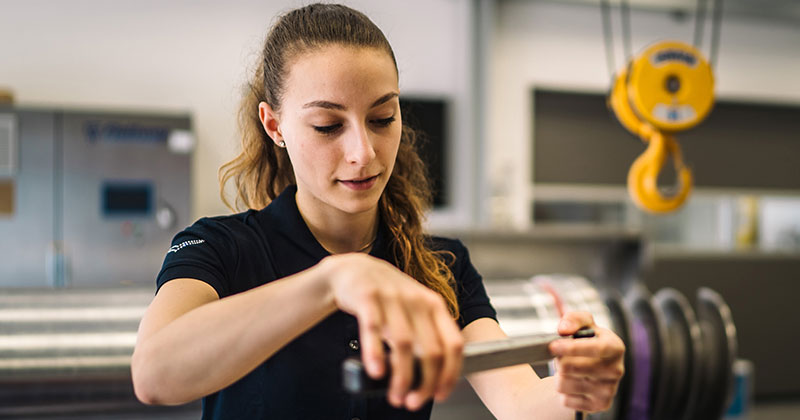 From Girls' Day to training at Flottweg
The success of Girls' Day is demonstrated by the following example: Julia Fleischer, former industrial clerk trainee with additional foreign language correspondent qualifications, now a Flottweg employee, learned about the company at Girls' Day: "I came to Girls' Day when I was in 8th grade, and it was a great experience. I gained incredible insight into separation technology and was really excited about Flottweg. After Girls' Day, I applied for an internship so that I could expand on my initial experience. That is when I knew: I want to do my training at Flottweg," says the 18-year-old. "I personally recommend that every girl sign up for Girls' Day at Flottweg, even if they don't really have much technical knowledge. It helped me gain fundamental insight into the working world and learn more about Flottweg as an employer."
Interested girls can now register on the official Girls' Day website (https://www.girls-day.de ) and secure their place at Flottweg. If you have any questions about this year's Girls' Day at Flottweg, please contact Training Manager Daniel Wimmer.
Daniel Wimmer, Training Manager
Phone: 08741.3011669
wida@flottweg.com