2018-08-01
Groundbreaking Ceremony for Plant 2
The groundbreaking ceremony for Flottweg's Plant 2 took place on July 23 at the Baumgarten grounds in Vilsbiburg, Germany. With a total investment of approximately 40 million euros and a newly acquired land area of nearly 55,000 m², the new plant comprises the largest single investment ever made by Flottweg. Plant 2 will double the production capacities of the separation technology specialist and improve the company's material flow.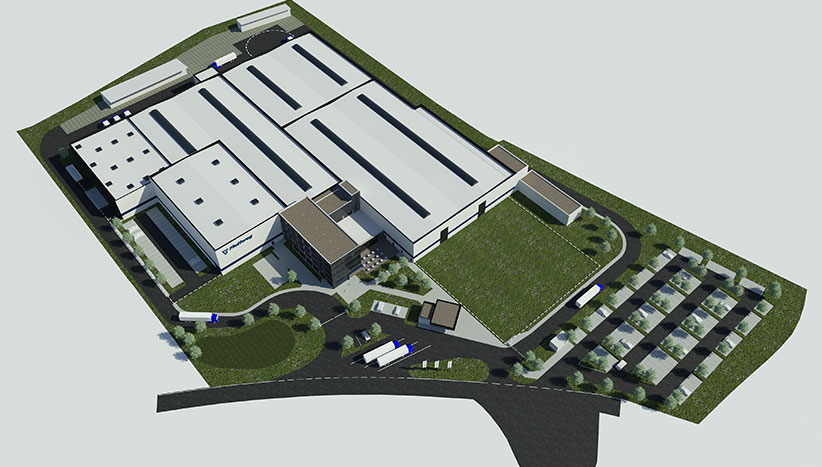 "The new plant is part of our 2020 strategy. Looking at the incoming orders, we are likely to reach our 2020 goals sooner. This means that we actually need the new buildings today," said Fritz Colesan as part of his opening speech.
Flottweg SE, based in Vilsbiburg in Lower Bavaria, has been able to develop its sales in recent years. With annual sales of nearly 169 million euros and a record order intake for the coming year, the main plant on Industriestraße has now reached its capacity limits. Flottweg has been positioned as a solution provider for years already. <link internal-link>Installing machines in containers and in "skid units" requires additional capacities.
With the new plant, Flottweg is now creating the opportunity to continue to sustainably develop <link internal-link>the Vilsbiburg area. The new plant will employ approximately 180 employees. The grounds comprise 55,000 m², with room to expand. The developed area is around 22,000 m².
Rainer Haselbeck, the district president of Lower Bavaria, emphasized the significance of the company for the region as part of the event: "It is companies like Flottweg that have made Lower Bavaria successful and continue to make it successful."