2018-04-03
Flottweg Revolutionizes Separation Technology at IFAT 2018
At IFAT 2018 in Munich, Flottweg will set the benchmarks for mechanical separation technology at an entirely new level. With the Xelletor series, Flottweg presents its latest generation of decanter centrifuges for municipal sewage sludge dewatering.
Visit us from May 14 – 18, 2018 at IFAT in Munich: Building A1, booth 550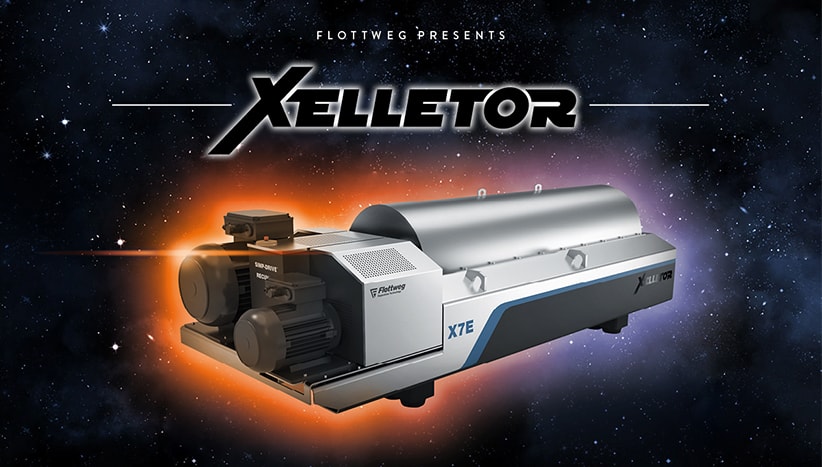 The IFAT expo in Munich is the world's leading trade show for water, wastewater, waste, and raw materials processing. In 2016, 136,885 visitors came from over 168 countries to judge the products and solutions of 3,097 exhibitors.
As an innovation driver in the area of mechanical separation technology, Flottweg will show off a revolution in sludge dewatering at IFAT 2018: the Flottweg Xelletor Series.
In comparison with our C-series, the Xelletor decanter centrifuges have even higher dewatering performance with lower consumption, going beyond anything that has come before.
These centrifuges can reduce your energy consumption by another 20%. At the same time, they achieve:
up to 15% more throughflow
up to 10% less sludge volume due to 2% higher total dry solids
up to 20% savings on flocculant consumption
Visit us at IFAT 2018 and experience an entirely new type of centrifugal solid/liquid separation!
What: IFAT 2018 in Munich
When: May 14–18, 2018
Where: Building A1, booth 550