2017-06-02
"Powerful" Performance- Flottweg Nominated for the Innovation Award
The OSE decanter from Flottweg is one of the most innovative products and developments from eastern Bavaria. The twelve most pioneering ideas and projects were nominated for the Innovation Award of the Wirtschaftszeitung [eastern Bavarian economic newspaper] in 2016. 200 representatives from economy and science chose the winner.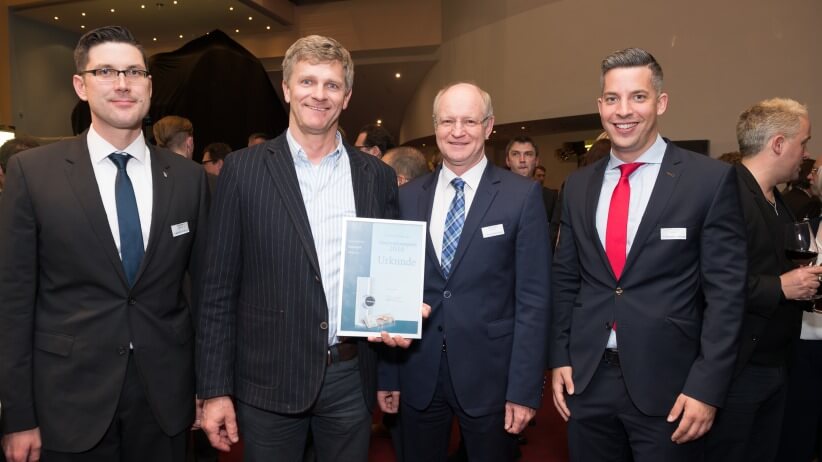 The Flottweg OSE decanter lined up against other creative ideas, such as a heatable asparagus field or a reinvention of the Otto engine. It was only possible after a second round of decision-making to name the CO2-free dispensing system from Krones AG as the winner.
The nomination for the Innovation Award illustrates the pioneering orientation of Flottweg. With the OSE decanter, the company is creating an innovative and environmentally-friendly way of thickening sewage sludge based on starch polymers. The starch-based polymeric flocculant (pFM) is an environmentally-friendly alternative to the conventional synthetic pFM.
It is necessary to use flocculants in conventional systems to thicken sludge in order to achieve a normal efficiency. Compared to synthetic polymers, flocculants based on pea or potato starch biodegrade in nature faster and more easily. The thickened surplus sludge is often applied to agricultural land as a fertilizer. That is why a rapid reduction of the sludge and the components are an important factor for environmental protection. However, the conversion to the environmentally-friendly flocculant often leads to high throughflow losses on conventional systems.
Only the Flottweg OSE decanter makes using starch polymers in sewage sludge thickening, economical, sustainable and efficient. The decanter centrifuge ensures an optimal sludge thickening and – also by using the starch-based pFM – achieves a separation degree of > 95 %. Very low polymer quantities are enough to achieve a high throughflow with a simultaneously minimal energy expenditure.