2022-09-27
Success is… Effective health management Interview with Martina Strohhofer, Health Management Consultant at Flottweg SE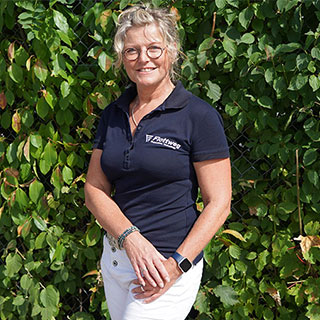 In my opinion, employees are the company's most valuable asset. Their health is essential. If they are sick or do not enjoy their work, they will not be creative or dedicated. Which is why promoting employee health is so important for keeping them fit and agile. As the saying goes: "Healthy employees, healthy company".
Martina Strohhofer

Health Management Consultant
The physical and mental health of every employee is a company's most important asset. Preemptive measures to prevent health problems are therefore extremely important. As such, a health management initiative was launched in February 2021. Martina Strohhofer explains in an interview why health management plays such a central role in the company's success and why it is so important to always keep the health of employees in focus.
What does health mean?
The term "health" has many different definitions. According to the literature, you are healthy as long as you are not frail and have no signs of illness. However, health is affected by many other factors. For example, you have mental and physical health, which should always be in harmony. People often have ailments in the form of back pain, but this can also come from the psyche.
It has been proven that physical problems are often caused by mental issues. In a business context, the work atmosphere has a lot to do with this, in my opinion: A good work atmosphere is essential for helping employees avoid health problems. In the end, everything is connected: nutrition and exercise, as well as the private or professional environment. You will only perform well at work if you feel comfortable and enjoy what you do.
Why is health management so important?
In my opinion, employees are the company's most valuable asset. Their health is essential. If they are sick or do not enjoy their work, they will not be creative or dedicated. Which is why promoting employee health is so important for keeping them fit and agile. As the saying goes: "Healthy employees, healthy company". If we look at it from an economic perspective, one sick day per employee costs the company approx. €250. We want to keep the sickness rate as low as possible, or or decrease it, of course. This company health management initiative is our way to do so.
What is your role as a health management consultant?
My role can be explained perfectly using the three pillars of occupational health management (OHM for short): the first pillar stands for occupational safety, the second for health promotion, and the third for operational integration management (OIM).
Occupational safety is a legal requirement. The company must comply with occupational safety regulations and guidelines, such as those for conducting risk assessments.
Within the company, people are free to follow health promotion initiatives on their own. I am in the process of developing this area in particular and implementing measures to promote health.
The third pillar is operational integration management (OIM). OIM is legally required for companies and absolutely voluntary for employees. OIM comprises all activities, measures, and services that are required on a case-by-case basis to reintegrate employees after they have been unable to work for some time. OIM has following objectives: Overcome the inability to work, avoid and prevent further inability to work, and maintain the workplace.
Which measures are currently being implemented?
We have now introduced many health promotion measures, such as:
"Fit at Work", a series of five-minute gymnastics exercises in the workplace
Resilience training, and specific training for managers and employees
The "FeelGood" program for our trainees
The "55+ Boarding Health" initiative for our older employees
Approaches for dealing with the stress of exams from mHplus health insurance
The "Health" intranet platform for employees, which provides lots of information on finding quick help for stress, using computer workstations, working healthy from home, etc.
Events like "Landshut Runs" or the company run
Nordic walking or the cycling group, which meets every week, or every other week, for a group ride.
As you can see, we have already initiated many health promotion measures. That said, I would like to conduct an employee survey in the near future so that I can find out which specific concerns our employees have. This will help me take even more targeted measures.
The coronavirus pandemic has affected all of us. Mental health has been shaken in particular. Has Flottweg noticed this? What measures have been taken to promote employee health in this context?
The pandemic began in February 2020. We immediately introduced the internal Corona Task Force, which dealt with a variety of topics, so that we could provide our employees with assistance and guidance. We also gave them information for who to contact if they have long covid. To offer our employees psychological support, we have partnered with an outside employee counseling service since last year. Stg helps Flottweg employees with any situation, offering an open ear, advice, or practical assistance. This service is free, anonymous, and available at any hour.
As a health manager, what kinds of challenges do you face on a daily basis?
Every day is a challenge, you never know what's coming. It can be very difficult to plan things out. Things usually turn out differently than I imagined. This gives my job a lot of variety, makes it exciting. For one, I always have something to discuss at the OIM meetings. In general, I noticed that health requires time and an open ear. I want to be there for my colleagues – no matter what – they should feel that they can contact me about anything.
What are some of the challenges in health management when you are implementing a new project/new measures in the company?
So far, work on the various issues, such as introducing OIM or the employee hotline with Stg consultants, has gone well. One reason for this is certainly that the Board considers health to be important and provides all necessary support. I also get a lot of positive feedback from colleagues. For me personally, the biggest challenge is not letting myself be troubled by the stressful issues I deal with. I've been able to do that very well so far.
What projects are planned for the future? What else will be implemented?
Nutrition will be another important topic. In that regard, I have already introduced a fruit basket for trainees. I would like to expand this to Plants 1 and 2.
One future project will definitely be a health day in cooperation with a health insurance company. I will also certainly face issues related to HR, like employee work-life balance. In addition, I would like to keep improving the health platform on the intranet.