2017-04-03
Prize for Outstanding Apprenticeships
The April edition of Focus Money magazine will award Flottweg their seal of "Germany's Best Apprenticeship Companies 2017". Over 5,000 companies were invited to participate. In the machine and system engineering sector, 38 companies around Germany were awarded this coveted seal.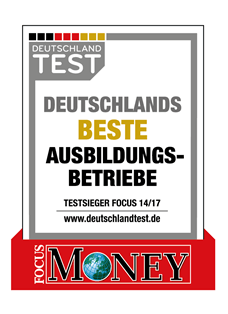 The "Germany's Best Apprenticeship Companies 2017" report lists the results of a poll on apprenticeship quality among German companies. The study was conducted for Focus Money by Faktenkontor GmbH in collaboration with Prof. Werner Sarges. A total of 5,000 of Germany's most employee-focused companies were sent paper-and-pencil questionnaires. Apprenticeship quality was then assessed on the basis of three appropriately weighted aspects.
Apprenticeship success made up 60% of the final score. This looked at the final grades of apprentices and the proportion of apprentices hired by each company.
The second aspect, structural data regarding the apprenticeship, was weighted at 30% of the score. This category primarily addressed the support program for apprentices with poorer educational preparation, as well as the integration of apprentices from immigrant families.
Apprentice pay was the third aspect evaluated. Questions in this category addressed both apprenticeship wages and special payments. This area made of 10% of the final score.
Flottweg achieved a spot in the Top 10 Apprenticeship Companies in the area of machine and system engineering on its first try. "Flottweg has a history in apprenticeship stretching back over 70 years. It is a matter of utmost importance to us that we can offer our apprentices a high-quality apprenticeship. So we are very happy with the evaluation that resulted in our being named one of 'Germany's Best Apprenticeship Companies 2017'," reports Human Resources Director Eva-Maria Gedeck.