2023-05-04
Review of the Girls' Day 2023 at Flottweg
Flottweg opened its doors for Girls' Day once again this year on Thursday, April 27: Seven girls in the 5th grade or older and with an interest in technology had the opportunity to immerse themselves in the world of mechanical separation technology for a day and gained valuable insight into technical professions, such as a mechatronics specialist or industrial mechanic.
As part of a variety-packed program, the participants' questions such as "What is mechanical separation technology?", "What do I need solid/liquid separation for?", or "Where are centrifuges used?" were answered at Flottweg. In addition to getting to know what it's like to work at Flottweg, visitors learned more about industrial training as an industrial mechatronics engineer or mechatronics technician. The young ladies were also able to put their technical skills to the test with their own small project: they got to make a pen holder in Flottweg's in-house training workshop. The participants were able to gain their first experience on various metalworking machines under the guidance of their instructor and were able to carry out the final assembly of the components.
Training manager Daniel Wimmer is once again enthusiastic about this year's day of action: "Girls' Day is a really great opportunity for young girls who are passionate about technology to learn about new career areas and in particular to gain first experiences in the technical field." That's why Girls' Day has been taking place at Flottweg for more than ten years now."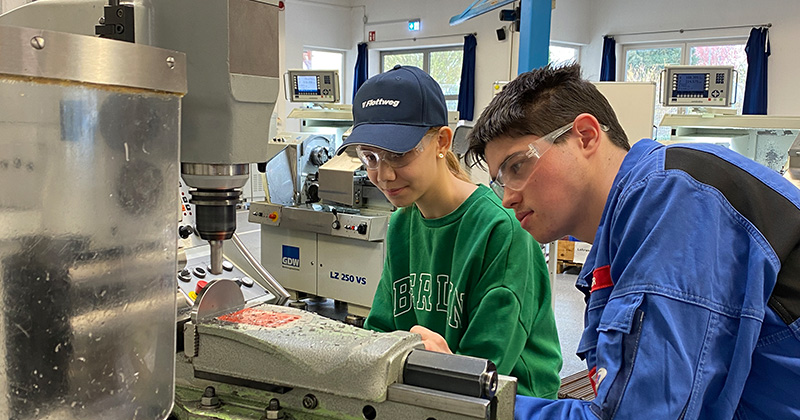 Vocational Internship at Flottweg: Gaining In-Depth Knowledge into the Working World
In addition, the opportunity to complete a vocational internship at Flottweg lets trainees of all genders discover working life in a variety of vocational training programs. Julia Fleischer, former industrial clerk trainee with additional foreign language correspondent qualifications, now a Flottweg employee, learned about the company at Girls' Day: After Girls' Day, I applied for an internship so that I could expand on my initial experience. That is when I knew: I want to do my training at Flottweg," says the 18-year-old. "I personally recommend that everyone enroll in a vocational internship at Flottweg, even if they don't have a lot of technical knowledge. It helped me gain fundamental insight into the working world and learn more about Flottweg as an employer."