2021-03-12
2020 – An Extraordinary Exhibition year for Flottweg Moscow
Many events and exhibitions have been affected by the corona pandemic. Last year, many of these were postponed or cancelled. In Russia, at least some exhibitions could take place in fall 2020. Our Russian subsidiary took part in these trades, thus showing our customers that we support them even in these difficult times.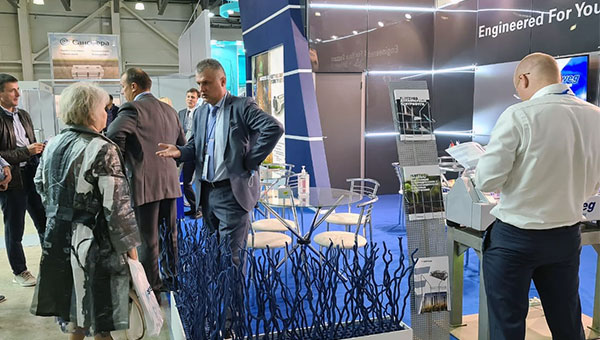 EcwaTech exhibition is one of the leading water management exhibitions in Eastern Europe. Flottweg Moscow presented our most recent development in separation technology: the Flottweg Xelletor. The decanter centrifuges belonging to this new X-series were specifically designed for sludge dewatering in sewage sludge treatment plants. Our visitors came from small and medium-sized companies as well as from renowned universities: These visitors are future decision-makers, so-to-say.
Another exhibition that could take place last year was the Agroprodmash, an important trade fair for the food industry. The exhibitors were companies from the food and beverage industry. Therefore, also Flottweg Moscow was present in order to be able to inform and support partners and customers personally. The visitors' interests were more specific and focused than in previous years.
The third event with on-site attendance for Flottweg Moscow was the "Ecoforum". The "Ecoforum' is engaged in trends in environmental protection. The participants are public and governmental authorities as well as experts. So our Flottweg experts also took part.
For this year, Flottweg Moscow has planned to took part in several events in fall in order to support our customers in the best possible way.