2019-04-17
Production Directed Digitally
"Smart Factory" is a popular buzzword that describes the digitization of production. Flottweg has also set their course for the future. Production is becoming ever more efficient thanks to digitization, especially in data-driven CNC production. Here is a look behind the scenes.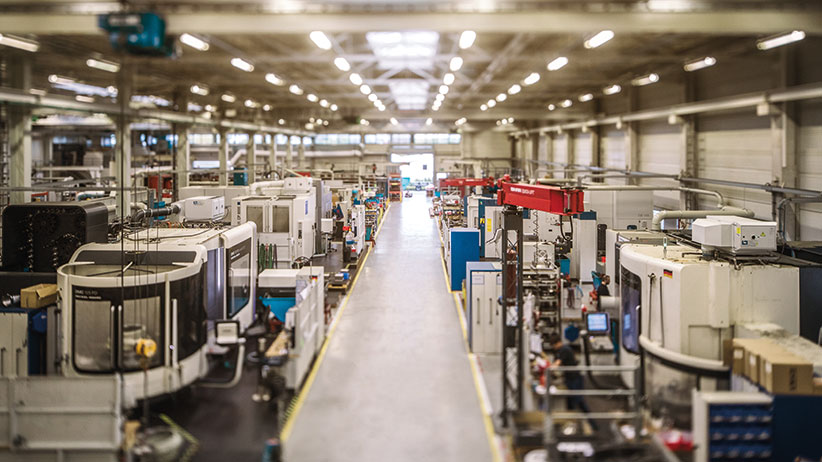 In 2009, Flottweg began using IT in production for more than just managing data and order processing. Since then, digitization has helped to better understand and optimize the complex process correlations in modern production. The result is a path to the Smart Factory, which shows how valuable the intelligent use of accumulated data has become in operation.
Increase in Efficiency
Since the beginning of data acquisition, individual production steps have been merged, and work steps have been structured more efficiently. These steps drastically reduce throughput times in production. For example, the production of a bowl cover of a large decanter centrifuge previously took about 17 hours, but today only takes 9 hours.
Overall, the gross demand for tool conversions until November 2018 was 120,000 retrofits. However, thanks to intelligent planning in advance by accessing the data from the machine tools, only 35,000 tools were retrofitted. This means a savings of 70.8 percent across all 11 machines. From a manual point of view, typing errors when entering conversion procedures are now eliminated. This source of error has not occurred since the system was first introduced and reduces rework as compared to before.
Data 2.0
In terms of data technology, Flottweg has clearly moved away from traditional data silos and toward networked databases. Now, ERP, programming system, tool and warehouse databases as well as Zoller tool management and measuring technology communicate with each other – but only so long as the order is active. After that, the system cleans itself up, and you have no pre- or post-storage of redundant data.
More Productivity, Thanks to Digitization
If you look at the change in processes at Flottweg, digital standardization has given more freedom in production. Modified orders and new tool integrations can be implemented quickly. Ongoing data maintenance and updates create a sustainable advantage. This also implies an increase in productivity through the latest tool technologies and innovations, which always keeps the production status up to date.
Increased Man-Machine Cooperation
When the working worlds of man and machine are harmonized, digitization forms the bridge. At Flottweg, employees are no longer concerned with "seeking" in value creation but pursue their production work in a targeted manner instead – without any time delay. The working worlds in production control are changing due to the digital structure, as the tools can now be planned and prioritized much better during preliminary equipment setting. In comparison, a simple ERP system usually cannot sufficiently map this process. Time savings and efficiency go hand in hand with the new man-machine cooperation.
The customer benefit with flexible and fast production is important for Flottweg, as customer-specific replacement parts can be manufactured cost-effectively with short delivery times. The advantage lies in the fact that production is characterized by shorter idle times, and downtimes are reduced by 50 percent.
2019 Outlook
The goal for 2019 is autonomous machining time feedback from the machines via Smart Data. Machine availability and idle times can be analyzed automatically and via an interface with SAP. The same applies to maintenance requirements, which detect failures early.
This requirement is supported by a new MES system, which provides important figures on machining and idle times as well as maintenance and service times. This creates transparency regarding production times, availability and performance. Production thus gains even more quality and efficiency, as unproductive times as well as sources of error can be detected even better. The update from MR-CM® 2.0 to ValueFacturing® 3.0, which will be supported by Maschinenfabrik Reinhausen, is also planned.