2020-07-01
Successful Use of Flottweg Decanters for the Clarification of Vegetable Oil
The fat and edible oil processing is an important sector in the food industry. Due to the increasing demand for mayonnaises and spreads, as well as the expanding range of other vegetable oil products, requirements for the quality of vegetable oils, from which these products are made, are increasing. The above factors force oilseed processing facilities to increase their production capacity and improve oil quality. Let's consider two examples of the successful use of Flottweg technology for sunflower oil clarification.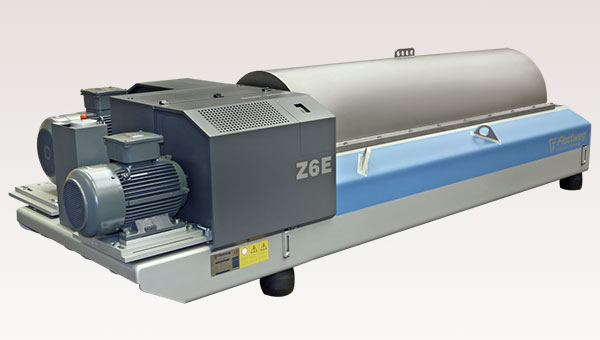 AO Kazan Oil Extraction Plant is one of the largest oilseed processing plant in Russia and the largest in the Republic of Tatarstan. AO KMEZ has been using a decanter centrifuge for the clarification of vegetable oils from a European manufacturer. In 2018, they decided to install an additional decanter. The management and product engineering team of the plant chose their supplier thoroughly. The main requirement for the decanter to be purchased was operational reliability. Based on the results of a technical analysis of parameters from various suppliers and on their experience, AO KMEZ decided to implement a Flottweg decanter Z6E-4/401.
In 2019, the equipment was delivered and commissioned by the service department of Flottweg Moscow. The decanter operates 24/7 hours and clarifies pressed oil with a capacity of up to 750 tons per day. The content of phospholipids after clarification is less than 0.2% and the one of non-fat particles is less than 0.07%. Due to its specific features, the German decanter delivers the clarified oil in constant quality, even with variable parameters of the pressed oil at the feed. The technical specialists of AO KMEZ were more than satisfied with the results obtained using the Bavarian decanter: It is an automated system for dosing process water depending on the flow rate, high-quality stainless steel is used for product wetted parts, it has an impeller for precise and continuous discharges and it offers continuous operation.
ZAO Pavlovskagroprodukt from Voronezh region also produces vegetable oils from sunflower seeds. Previously, the company used two filters for oil clarification. Due to the modernization of the company in 2016, production capacities were increased up to 300 tons of oil per day and the technology of pressed oil clarification with partial hydration based on Flottweg decanter Z5E-4/401 was introduced. According to the results obtained in more than three years, it can be stated that the decision taken by the ZAO Pavlovskagroprodukt management to implement the Flottweg decanter was correct and justified. The removal of phospholipids from the pressed oil resulted in a reduction of the volume of impurities in the tank farm, thus improving the efficiency in oil clarification. Therefore, the quality of the oil which is then sold to the domestic and foreign markets, was also considerably improved.