2021-08-31
"Top" - means from the consumer's point of view that Flottweg SE is one of the most sustainable companies in Germany in 2021
A study by the Institute for Management and Economic Research (IMWF) in cooperation with GERMANY TEST shows: that around 1,200 companies in Germany are perceived to be particularly sustainable. Flottweg SE from Vilsbiburg also received the coveted seal. This means that the machinery and plant manufacturer is established as a company that operates in a particularly sustainable manner.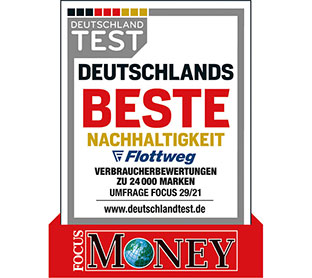 Consumer opinions on environmental, social and economic sustainability are becoming increasingly important. More and more companies are becoming active to compete globally in the long term and to be seen by customers as a sustainable company.
For the "Germany's Best – Sustainability" award, 41 million companies were evaluated on the Internet (March 2020 to February 2021). Among them are 297 companies and brands from the mechanical and plant engineering sector. The industry-specific point value is calculated on a scale of 0 to 100 points. The respective industry winner receives 100 points and sets the benchmark for all other companies examined within the sector. The award is given based on the points achieved in the overall ranking, which must be at least 60.
Flottweg is one of the winners of the award and can earn points in the areas of ecological, economic and social sustainability.
"Inclusion in this ranking rewards a great collective effort by our employees towards sustainability," says Peter Frankfurter, Chief Financial Officer and Chief Production Officer at Flottweg SE.
Source:
Institute for Management and Economic Research, IMWF.de; April 2021
Focus survey 29/21, www.deutschlandtest.de: Consumer rating of 24,000 brands