2016-06-30
Flottweg USA Honored with the Thoroughbred Award
Flottweg USA was the recipient of the Thoroughbred Award for their outstanding development in the Northern Kentucky Area. The separation technology specialist was awarded the prize under the sponsorship of Kentucky Governor Matt Bevin and the Northern Kentucky Economic Development Group. Present for the company were Vice-President Uwe Knoop and Sales Manager Robert Rhea.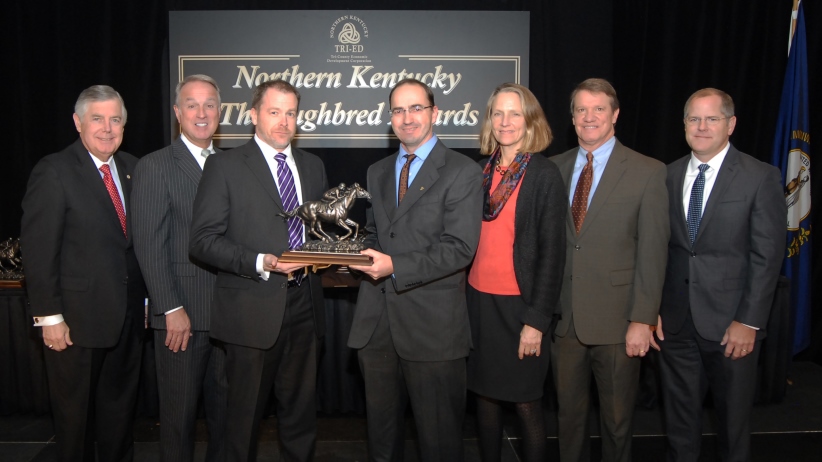 The Thoroughbred Award is awarded every year to companies in Northern Kentucky who have excelled through outstanding economic development. Flottweg made a significant expansion to its corporate campus last year. A new 20,000 square foot building (1860 square meters) was built. It houses 4000 square feet of office space and 16000 square feet for warehouse, fabrication, and testing space. The new facilities provide equipment staging for new products, temporary storage space for rental machines in transit, as well as container and process skid construction. The expansion, with a price tag of $2.1 million, was the main reason for the award. Dan Ellis, President of Flottweg USA, was pleased with the award, saying, "Being acknowledged alongside other large global corporations as well as smaller local entities, shows that the Greater Cincinnati/Northern Kentucky Region is an extremely competitive environment in which you can establish and/or expand your corporate footprint". In addition to Flottweg USA, well-known companies such as DHL, CitiBank, FedEx, and Bosch were also honored.
<link internal-link>Flottweg USA currently employs a total of 65 people. The subsidiary is responsible for the Engineering, Sales, Delivery, Testing, Repair, and Service departments.