2022-12-15
2022 – A Strong Trade Fair Year for Flottweg
With more than 120 international trade fairs visited, five of which were major trade fairs in Germany, 2022 was an important trade fair year for the separation technology specialist after having had to take a pandemic-related break. From IFAT as the world's leading trade fair for water, sewage, waste, and raw materials management to Drinktec which is focused on separation technology for the production of beer and beverages to Bauma as the most important and world's largest trade fair for the construction and mining machinery industries, Flottweg showcased a variety of separation solutions in Germany for a wide range of applications. Flottweg displayed its array of separation technology and separation units at international trade fairs, too. At Perumin in Peru, for example, Flottweg exhibited separation solutions for mining, at the Weftec wastewater trade fair in the U.S., the focus was placed on sewage sludge dewatering, whereas packaging and processing were the main topics at ProPak in Vietnam.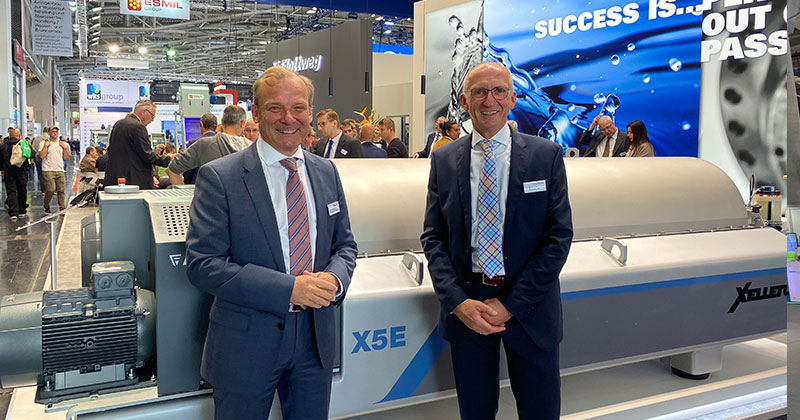 Sven Bedö, Head of Global Marketing, gives a positive review: "2022 was a really successful year in terms of trade fairs. Even though the pandemic brought some changes, we are quite content," says the Head of Marketing. "Overall, there were slightly fewer visitors to national and international trade fairs than in previous years. Analyses show, however, that most visitors came to our trade fair stands with very specific projects and requests. It's a picture that is emerging across all industries. Several national and international trade fairs also await Flottweg next year in 2023, although 2022 was truly a record-breaking for us, with 120 trade fairs attended around the world."
A Focus on the Nozzle Separator: Presentation of the New Product at Anuga Foodtec and Achema
The new Flottweg FDS2000 nozzle separator was the focus of two leading international trade fairs. The separation unit was first unveiled at the end of April at Anuga Footec – the international trade fair for food technology in Cologne. In August, the focus was on the nozzle separator at Achema, the leading international trade fair for the chemical, pharmaceutical, and biotechnology sectors in Frankfurt. The new separation unit is used in particular for the continuous separation of solids from liquids, such as in the starch industry or in biotechnology, and is expanding Flottweg's product portfolio. Visitors from all over the globe were impressed by the separator thanks to its low energy consumption, high clarification and separation performance, and uncomplicated maintenance.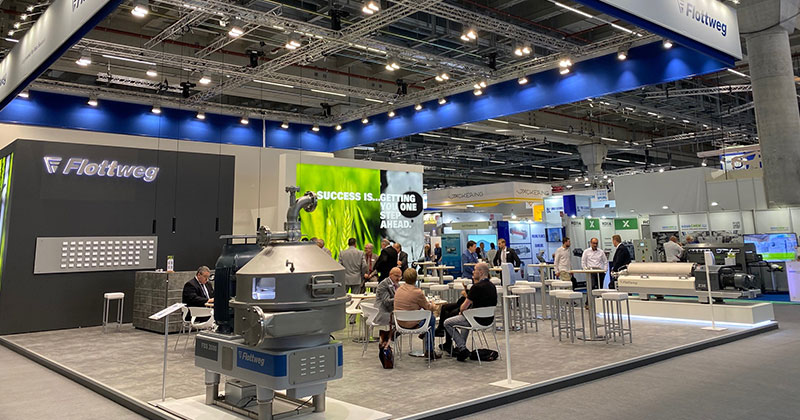 Head of Product Management for separators Matthias Gaube, who oversaw the nozzle separator's design and development, considers the introduction of the nozzle separator positive: "We are delighted to be able to present the nozzle separator at two leading international trade fairs in 2022. Visitors had the opportunity to look at the nozzle separator in person at our stand and get a glimpse into the inside of the machine through specially created openings. The response was very positive, and we had many excellent discussions with customers and interested parties."