2021-06-01
Flottweg Aftermarket Tradition Continues in Canada
Keeping the tradition of superior expertise, accessibility, inventory, and the ability to respond to any issue immediately, Flottweg extends its world-class aftermarket parts and services with a new 15,000 square-foot Customer Care Center in Etobicoke, Ontario, Canada, conveniently located just minutes from Toronto International Airport.
Focusing on the customer's success—including process reliability, greater cost efficiency, and unparalleled customer service—Flottweg Canada will support Canadian Customers with the high standards set by the U.S. aftermarket facility in Independence, Kentucky.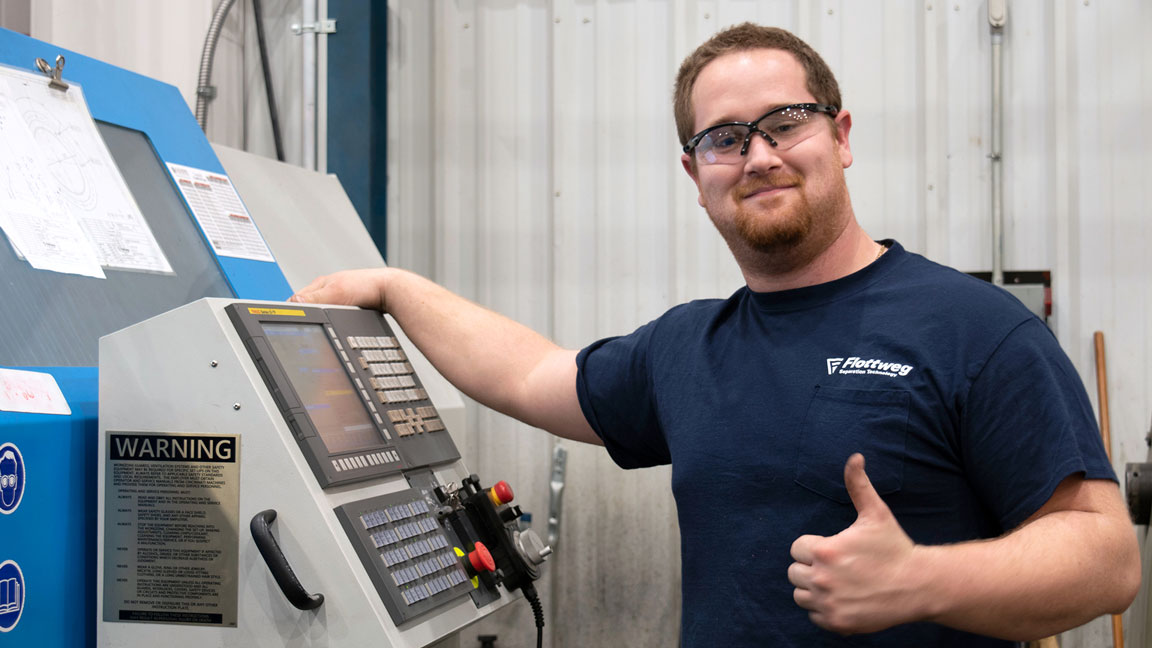 "Our experienced, factory-trained Field Service and Repair technicians ensure that the equipment maintains optimal performance throughout its useful life," says Flottweg Canada Managing Director Frank Scriver. "In addition to high-quality OEM parts and the ability to restore equipment to original Flottweg specifications, our localized service and support approach helps eliminate lengthy wait times for customers that can't afford production delays."
According to Flottweg customers in the U.S. who have experienced the advantage of an in-house, expert aftermarket service, response time makes all the difference when production issues arise.
"Our Flottweg technician has always made himself available to answer questions, reach out, and ask staff to come over and help," says Flottweg customer, Juan Noyola, Aker BioMarine's Maintenance Manager. "The technicians have been great. We've needed some parts, and the service has been wonderful. Our equipment has all the bells and whistles with all the warnings and sensors that we needed. It's very difficult to mess it up."
This is why Flottweg has made the investment to provide the same level of aftermarket service in Canada.
"These are Flottweg-trained technicians—they know this equipment inside and out so they can respond quickly to any problem that the customer might have," Scriver says. "This is in stark contrast to what private, pirate organizations can provide. When you provide service to various manufacturers' centrifuges, can you really ensure that they are all to spec? They are generalists. We are specialists."
The team of experts work together to provide superior service whether it's spare parts, field service, or in-house repairs and refurbishments.
"If one of our technicians is on site and runs into something that he hasn't come across before, he makes one phone call to a list of literally over a dozen people who can provide an immediate answer to his question, on the phone." Scriver explains. "The Aftermarket Team takes care of our customers! Outstanding service makes an impression on them, and when they talk to other people that are buying equipment, they are happy to share their positive experience. It's a cycle of success that helps to separate us from the competition."
"I feel that Flottweg is superior in a lot of regards, particularly when it comes to service and support and their timeliness and responsiveness," says Flottweg customer Joseph Baxter, Dry Creek Wastewater Treatment Plant Manager. "I would definitely, without hesitation, recommend Flottweg to anyone else looking to separate their solids and liquids."
Another Flottweg customer, Reno Rendering General Manager Andy Black agrees. "Flottweg is a full-circle company, meaning that they're not just going to sell a product and be done," Black says. They're along for the long haul, and we are a customer for life."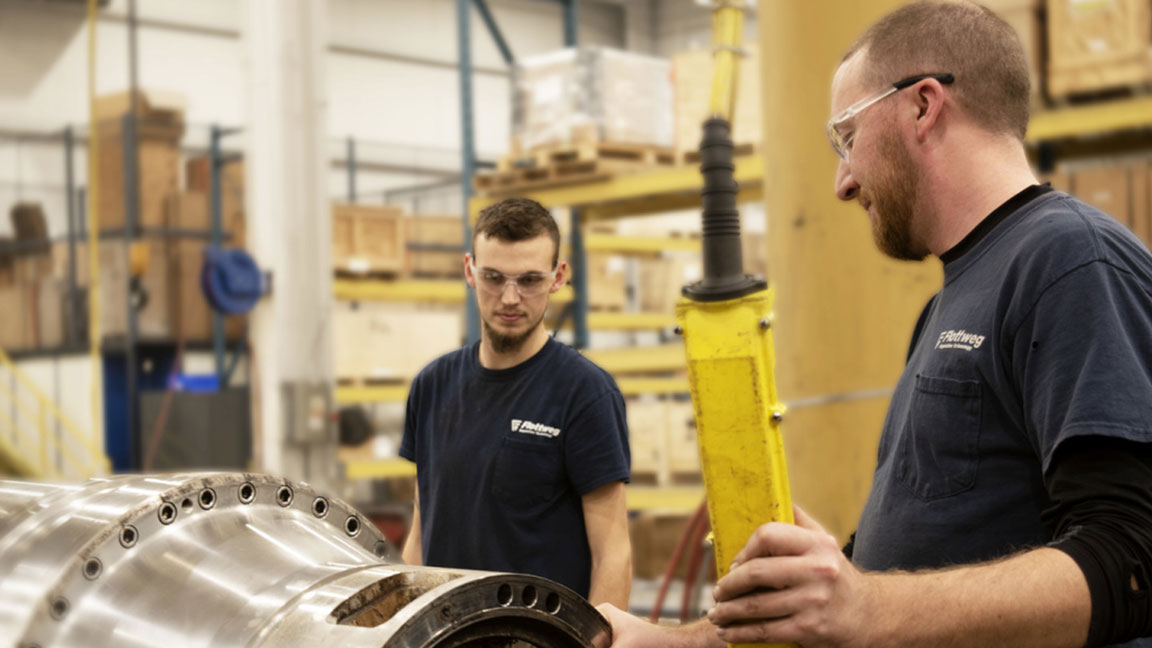 Flottweg's multiple locations throughout the U.S. provide immediate access to service and support. Whatever the issue, it is structured to immediately dispatch technical experts and all the parts and service equipment required to be at any site within 24–48 hours. It's a level of service no competitor can match, says Flottweg Aftermarket Sales Manager Steve Pennington.
"We are an original equipment manufacturer, which typically means parts and services are more expensive," Pennington explains. "But this is not true in our case. From a reliability standpoint, we maintain high standards, but we also try to lower the overall cost. I think that's something that a lot of people miss. At the end of the day, the customers who work with us typically cut their cost by a considerable amount. It's really that simple."
More than 70 engineers, technicians, and sales and administrative professionals are on call for service and support at Flottweg's headquarters in Independence, Kentucky. They are backed by Flottweg's Aftermarket and Technical Support organization in Russell, Kansas includes expert trainers and full-time service technicians, all centrally located and on call to support Flottweg customers coast to coast. The Canadian Customer Care Center will follow the same guidelines and standards, with a smaller staff at first, but with the support of the U.S. team.
Flottweg maintains a complete, multi-million dollar inventory of all the parts, rotating assemblies, and accessories used in its equipment. From routine maintenance items to replacement parts and assemblies, Flottweg maintains the right aftermarket parts for each system, plus expert capabilities—including machining, balancing, welding, and sandblasting. Flottweg ensures a fast turnaround and minimum downtime. Aftermarket services include:
Installation and Integration Assistance — for all centrifuges and dewatering mechanisms
Training — certified training for operators, mechanics and engineers
Process Optimization and Inspection — ensuring optimum equipment performance
Preventative Maintenance — on-site maintenance of electrical and mechanical parts
Periodic Inspections — recommended for rotors and other critical wear parts
Diagnostics — vibration analysis and other diagnostic services to identify and fix potential problems
Maintenance Agreements — short- and long-term, full-service maintenance contracts
Scroll Exchange Program — regular replacement of out-of-tolerance scrolls
Rebuilds — on-site subsystem or full-system rebuilds
Emergency Repair — technicians and necessary equipment or parts at your site within 24–48 hours.
Response Time & Quality of Service
Pennington says that Flottweg's response time is by far the biggest advantage of its superior aftermarket services with the quality of service also making a difference.
"There's no major separation company in the states that has the service that we do," Pennington says. "I've heard service stories that were awful where it took our competitors something like six weeks to respond. They sometimes had to wait another two to three to four weeks."
Flottweg offers shop service, in which equipment is removed from installation and brought into the shop to repair. It also offers field service, in which expert technicians go to the site, remove the machine from service, inspect it, and discuss solutions with the customer face to face. This flexibility is important to Flottweg customers.
"Flottweg is very knowledgeable across the marketing lanes," says Steve Tourigny, California Safe Soil (CCS) Consulting Operations and Engineering Expert. "CSS is a typical small company who wants things to happen quickly. Flottweg was able to deliver and meet our tight schedule. CSS had a lot of instrumentation, and we didn't know how we would control the equipment. It really should be integrated into the control cabinet. We needed 30 inputs and outputs inside the Flottweg controller. They told us it was already being assembled. They were able to reconfigure the control cabinet with only about a one-week delay and delivered exactly what we wanted. There are a lot of nice machines I've used over the years. The whole experience of finding Flottweg and how they gave me information and responded to the order was just incredible. They were very flexible." Tourigny was also grateful for the quality of support.
"The team that supports the equipment is exceptional—from the top down," he says. "The equipment is very robustly built. As long as you follow the procedures and clean it, it's a no brainer. It runs every day. We have only had one problem early on, and it was a fine-tuning question that was fixed very quickly. It does the job they said it would do. The machine itself is simple and it works. If it's the right profile, we wouldn't hesitate to purchase and use another one."
When Karl Bratvold, Operations Manager of Aleutian Fisheries' processing vessel Starbound needed equipment for an onboard food processing plant, the service was a critical part of the decision when purchasing the equipment.
"We went out to find a decanter and tricanter and found Flottweg. They have been fabulous," Bratvold says. "I appreciate Flottweg so much—from sales to parts to service. They do what they say they are going to do. They show up, and there's been a tremendous amount of support. They listen to how you are using the machine and then adapt to it and modify it. We are in a remote atmosphere and only have limited time, so this is a big deal for us to be able to get the parts and the service and have people respond to us. The technical support has also been great. We have questions, and they answer them quickly. We have lots of questions, so it's been really helpful. If anyone asked me what to put onboard, I'd put a Flottweg."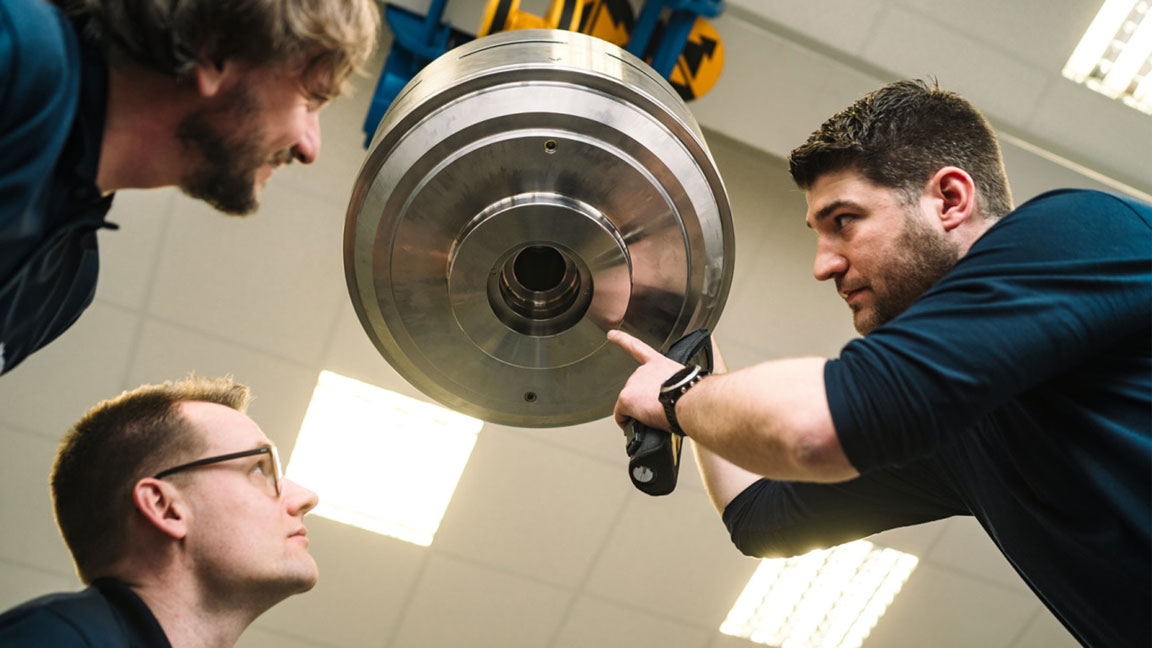 Training & Ongoing Maintenance
Training & Ongoing Maintenance
When Flottweg equipment is purchased and installed, training and maintenance schedules are included, says Frank Banham, Flottweg Aftermarket Sales Manager. "I try to simplify it for new customers," Banham explains. "I know they're probably not going to read every word of the 200-page operation manual. For our customers at these plants sometimes there is turnover with operators and maintenance technicians. We try to inform them and have a plan for them. It's all different, because we've got machines in a variety of industries and the process can be totally different."
The sales team works with project engineers, process engineers, and the customer to get the equipment installed and running. Training for all maintenance and operations personnel is provided by Flottweg. "Our goal is to be more proactive on the aftermarket side to get in touch with the customers and inform them," Banham says. "We do more training on the maintenance and operation side of their new machines."
Recommendations on maintenance and service are appreciated by Flottweg customers.
"We follow Flottweg's recommendations as far as the time between rebuilds," says Flottweg customer Eric Hunter of Solvay. "We just pull one of the units (rotating assembly) out and send it back to Flottweg for inspection and maintenance. As far as lubrication, we follow the recommended lubrication schedules for all bearings and anything else that needs to be maintained. Flottweg has test units that are readily available. We were able to actually see our unit in action and see its performance. Flottweg then used that data to help give us a guarantee of performance." Hunter says this level of service and attention to detail made Flottweg stand out among the competition.
"Flottweg required a technician to be here for commissioning," he explains. "Flottweg is very knowledgeable. They're capable of answering any questions and helping us troubleshoot issues that have occurred. And the things we got wrong we were able to fix. So that was very helpful."
While some issues will arise with constant use of any rotating equipment, solving those problems quickly is the name of the game, according to customers who use Flottweg equipment.
"We haven't had any problems. We've had a few challenges, but challenges are just the nature of the beast," says Flottweg customer Fred DeMaio, Vice President of Minard Farms Beverage Company. "The Flottweg tech team in Kentucky is easily reachable and is quick to help us fix them. We have made a couple of other improvements and for those improvements we also used Flottweg equipment. They really helped me think about what else we needed so we could get the right kind of equipment. When all is in place, we have virtually nothing to worry about. The belt is retractable, and if it gets too far off track for whatever reason, there is a feature that shuts the belt down. With the old belt technology, the belts could trip and wreck themselves and there was nothing you could do about it except place a man there to watch it. This gives us even more savings just to not have a man sitting there babysitting the belt."
The new Canadian Customer Care Center is centrally located close to Toronto International Airport. U.S. customers say that location can be critical to achieve an acceptable response time.
"If we need a part, Flottweg is just two hours away," says Flottweg customer Dustin Goodlett, Four Roses Distillery Senior Manager of Operations. "Previously, we would have spares on hand, but this is not necessary anymore because the parts are readily available, and the customer service is outstanding. The startup went off without a hitch. It has been pretty painless. So far, we are very happy with the machine and happy with the customer service. Flottweg is very conveniently located to us and very attentive to our needs. We are able to process our byproduct quicker and in a more efficient manner to keep our stills running. The machine is very user friendly. So far, it's been very low maintenance."
Jerry Cramer, JTM Food Group's Process Consultant for Waste Treatment also praised Flottweg's superior customer service. "Everyone at Flottweg seems to be involved," Cramer says. "And if I can't reach one of them, I can usually reach someone else who can help me." Equipment performance and quality of service matter to Flottweg customers.
"The decision to buy Flottweg came down to price," says Geordie Gauld, London, Ontario Greenway Treatment Plant Division Manager. "However, the service we received from Flottweg made it a bargain!"