2020-12-01
Flottweg Success at the Zelenograd Wastewater Treatment Plant
In Zelenograd, Moscow, Flottweg decanter centrifuges were installed at the wastewater treatment plant for the mechanical dewatering of surplus activated sludge. The Zelenograd wastewater treatment plant was commissioned in 2000, designed for a capacity of 140,000 m³/day. The plant treats sewage from Zelenograd and the adjacent Moscow districts, including Andreevka, Zhilino, Rzhavki, Mendeleevo and the Luginino village residential development.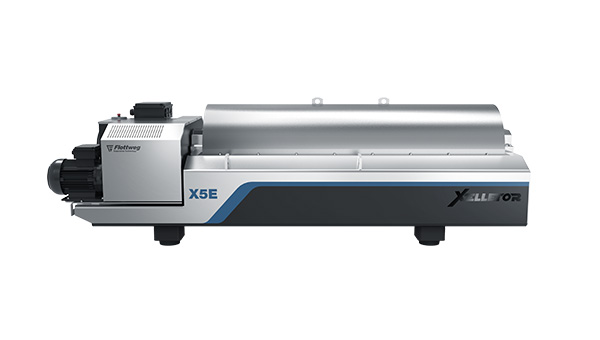 Mosvodokanal JSC has managed the Zelenograd waste treatment plant since 2013. Mosvodokanal JSC provides water supply and sewage services to the Moscow region, and is the largest water company in Russia.
The process flow chart for wastewater treatment includes:
Biological Treatment: threeway grid, degritter, phosphor basins and aerotanks (designed for the removal of biogenic elements) and secondary setting tanks
Advanced Treatment: high-rate filters with UV sterilization
The Zelenograd wastewater treatment facilities were originally designed without a sludge treatment basin. The surplus activated sludge flowed into a centralized wastewater disposal system, through which it traveled to the Moscow-Kuryanovskie waste treatment plant. To resolve this complicated and expensive process, the Zelenograd waste treatment facilities were reconstructed to include a mechanical sludge dewatering plant.
Four Flottweg X-series decanters (Xelletor) with a polymer-conditioning complex were installed at the wastewater treatment plant. The capacity of each decanter is 840 m3/day (range is 20–60 m3/hour). The new Flottweg machines are superior to their predecessors in dewatering effectiveness, establishing new standards of output, dewaterability, polymer and energy consumption.
The decanter centrifuges were equipped with a Simp Drive® drive unit to manage the decanter bowl and scroll speed differences. The drive unit maintains the specified humidity of dewatered sludge by ensuring a constant torque at the decanter screw conveyor. The Flottweg decanters automatically control and maintain the speed of the bowl rotation and the differential speed of the scroll. Metering of the required flocculant solution is controlled in real time.
With the Flottweg decanters on site, the dewatered surplus activated sludge is simply transferred to special hermetically sealed containers and given to licensed contractors for safe disposal.