The Flottweg Z4E: The all-rounder of the decanters
Whether for the processing of beverages, olive oil, wheat starch, or the recycling of oil sludge, the Flottweg Z4E is the machine for you.
The Flottweg Decanter Z4E embodies high value, efficiency, and long service life, and is a true all-rounder. Satisfied customers use this decanter centrifuge in a wide variety of applications in centrifugation. The Z4E is also available and used in a number of variants.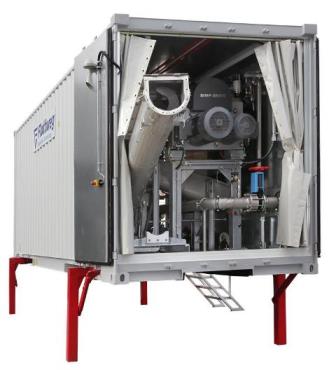 Centrifugation with Flottweg Technology - Engineered For Your Success
The Flottweg Z4E and the different variant options:
As a system in containers or on platforms
As a Tricanter® for separating 3-phase mixtures, i.e. two immiscible fluid phases and a solid phase
As a decanter for separating 2-phase mixtures (solid/liquid separation, such as for example in avocado oil production and in oil sludge treatment)
As a decanter for 2-phase mixtures with free overflow (depressurised liquid removal)
As a decanter for 2-phase mixtures with specific extraction of the liquid phase (for example in fruit juice manufacture when separating solids from mashes or juice)
As a version for use in potentially explosive atmospheres
The Flottweg Decanter Z4E – The All-Rounder When It Comes To Centrifugation
Flottweg has been building decanter centrifuges since 1956. As a globally recognized supplier of tailored solutions for mechanical separation technology, Flottweg impresses customers worldwide with its Z4E and its high quality, efficiency, and durability.
Take advantage of our know-how and the flexibility of our Z4E decanter. Our experts would be happy to talk to you.