Fish Meal Processing
Especially for processing fish meal, fish oil and seafood, Flottweg Centrifuges have been in use for many decades in all major fish processing regions worldwide. Thereby, the company convinces customers with the following key success factors:
Highest performance and separation efficiency
Highest possible cost efficiency due to continuous and automatic operation
Highest reliability and availability of machines and systems explicitly adapted to customers' requirements
Innovative Flottweg achievements like the Simp Drive® or the adjustable impeller system
Fish Processing with the Tricanter®
Processing fish meal and fish oil with a Flottweg Tricanter® symbolizes the benchmark due to the fact that a Tricanter® recovers fish meal and fish oil from whole fish or residuals (heads, fins, bones etc.). First, the raw material is heated so that it disintegrates and releases the fish oil. After cooking, the material passes through a screening stage; there it separates into a protein-rich solid phase and a liquid phase containing oil, water and fine solids. The solid phase is then being further separated via presses into a liquid phase and press cake. The latter is finally dried to obtain fish meal. As described above, the liquid phase from the screening and pressing stages is separated into fish oil, water and solids. Two options occur here for separation:
A two-stage separation where a clarifying decanter separates the solids, followed by a separator (disk stack centrifuge) to skim the fish oil from the water
3-phase separation in only one single stage with the Flottweg Tricanter®.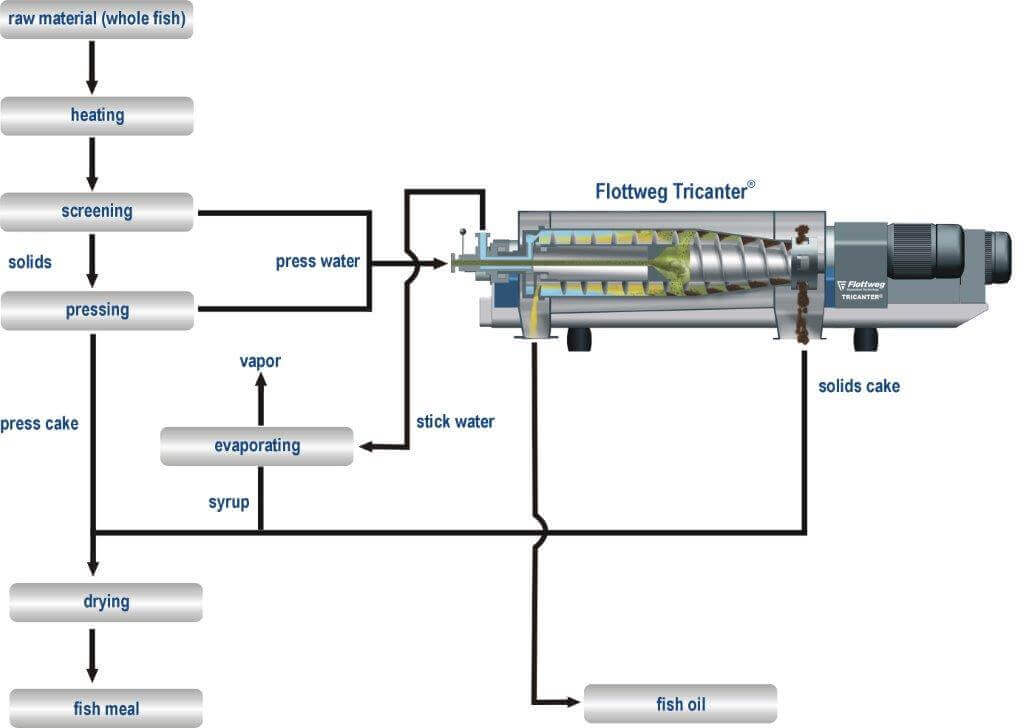 Depending on customers' requirements in terms of the purity of the oil phase, an additional separator can be used to purify the concentrated oil phase.
After deciding which option (two-stage separation or one single stage) suits best for individual customers, the water is concentrated into syrupy consistency through evaporation. This syrup and the solids cake from the Decanter/Tricanter® are mixed together with the press cake and thermally dried.
Your advantages in producing fish meal
Greatest possible purity of the liquids to be separated, by using the impeller
Other processing steps/separating stages can be dispensed with, or are no longer required, thereby offering cost savings for the plant owner
Adaptation to changing conditions (product in the feed) possible at any time
Automation is possible
Produced, manufactured and developed in Germany, for the highest possible production quality
No alteration of the product due to quickest processing (even if large volumes need to be processed)
Reduced emissions of odors/vapors due to closed design
Cleaning in place (CIP) capability (option)
Availability of hygienic design
Availability of Flottweg Equipment as compact processing plants on platforms or containers
Systems for direct processing of whole fish, byproducts of filleting plants or/and byproducts of the canning industry
Years of experience in fish processing make Flottweg one of the leading providers of mechanical separation technology. We supply systems to spec for the production of fish meal. Our experts would be happy to talk to you.