OOO Flottweg Moscow – Flottweg in Russia
Flottweg Moscow is the subsidiary of Flottweg SE (Germany) in Russia.
With over twenty years of work experience in Russia and the GUS states, they have delivered and put into production over 300 systems.
All systems, including separators and belt presses, are manufactured in a single Flottweg plant in Vilsbiburg, Germany.
Our Systems are in successful operation in different companies in the area of petrochemistry, mining, metallurgy, and the food industry, as well as numerous municipal and industrial sewage treatment plants.
They are known for reliable operation, which is guaranteed by means of high-quality and correctly selected wear protection.
In 2016, Flottweg Moscow was named the "Best Supplier of Equipment for Ex Manufacturing Facilities" at the Interindustrial Forum in Moscow.
Flottweg Systems have been used in modernization projects for a series of sewage treatment plants as well as cellulose and paper factories.
Applications of the systems & engineering
Flottweg systems are used in a variety of production phases in the following industries:
Cooking fats and oils
Manufacturing of biofuels
Beverage manufacture
Manufacture of certain foods
Chemistry and pharmaceuticals
Municipal and industrial wastewater
Mineral oils
Flottweg offers both single pieces of equipment, systems in container or modular variants, and even complete production lines.
The engineers at Flottweg develop custom solutions for customers, adapting the systems to the special needs and requirements of each production environment.
Customer service & laboratory and research center in Russia
Flottweg Moscow has its own customer service department that covers the following services:
Performance of pilot tests at the customer's site
Important general contracting and commissioning work, including training of customer staff
Maintenance of systems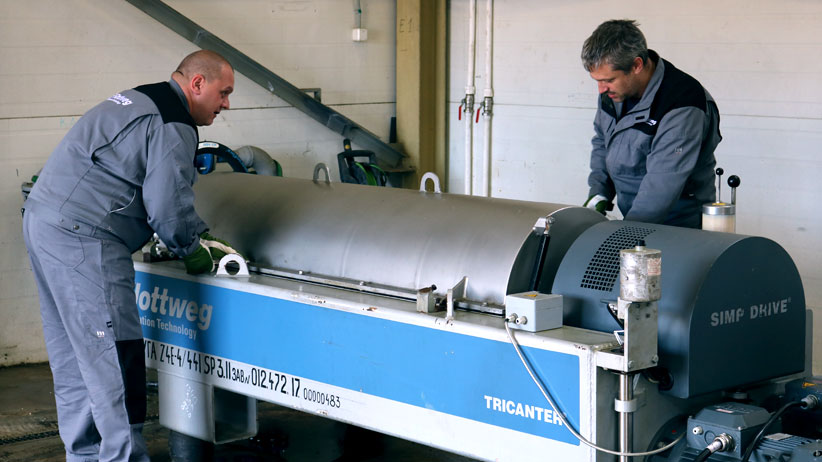 To improve regional mobility, there are multiple service technicians at our customer service sites in St. Petersburg, Lipezk, and Omsk.
In the city of Chimki (in the Moscow district), we maintain our own machine workshop, a spare parts warehouse, and a laboratory and research center.
Before purchasing your system, you can contact us for laboratory testing of your product. Our specialists will prepare a report for you detailing individual recommendations for the choice of system type and model best suited for your particular application.
For urgent questions, you can contact the Flottweg Customer Service Hotline in Russia round the clock at 8 800 500 75 17.
We don't simply offer systems – we offer you solutions for the success of your company.
Your contact at Flottweg in Russia
OOO Flottweg Moscow
Vashutinskoe shosse, building 17
141402 Moscow region, Khimki
Russia
Phone: +7 (495) 575 34 34
Phone: Hotline – 8 800 500 75 17 (calls free of charge from the Russia telephone network)
Fax: +7 (498) 764 29 18
Email: moscow@flottweg.com