Used Cooking Oil Recycling and Reuse with Flottweg Technology
Recycled and reconditioned used cooking oils are raw materials for the manufacture of biodiesel and technical greases.
Used cooking oils such as fryer oil or the contents of grease separators often contain significant quantities of undesired foreign matter. For the manufacture of biodiesel or technical greases, these materials must be separated from used cooking oil and grease separator contents.
How is used cooking oil processed? - The Recycling Process
For processing, the used cooking oil or grease separator contents are heated to the required processing temperature and fed into the three-phase centrifuge.
The Flottweg Tricanter® then separates water, oil, and solid particles from one another in a single step. Thanks to its robust design, the centrifuge can separate solid particles of different sizes and in different quantities with no problems.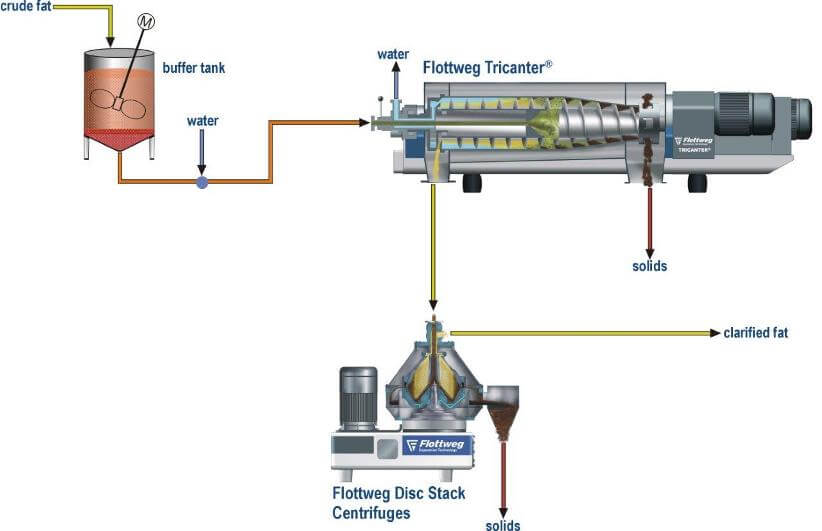 Your Advantages in Used Oil Recycling With the 3-Phase Centrifuge:
Faster recycling process and efficient cleaning
Better processing of used cooking oil due to the use of additives
Greater throughput and capacity thanks to continuous operation
Maximum degreasing of the solids
Improved quality of the end products (biodiesel and technical greases) thanks to greater purity of the cleaned used oil
Lower maintenance costs for systems in later processes
Our 3-Phase Centrifuge: the Patented Flottweg Tricanter®
The Flottweg Tricanter® is perfect for the recycling of used cooking oil.
Adjustable Impeller
Permits quick, flexible adaptation to changing conditions in the product feed
Adjustment possible during ongoing operation and fully automatically
Greatest possible quality in the separated materials
Simp Drive®
Bowl and differential speed separately adjustable
High throughput performance due to high bowl speed and precisely tuned differential speed
Adjustment of parameters possible even during ongoing operation
Low maintenance costs
Cleaning and Maintenance
Simple cleaning of the Tricanters®
Maintenance-friendly, user-friendly design
Downtime minimized
Flottweg – your partner for processing used cooking oil:
Throughout the engineering process, Flottweg is at its customers' side with information and support. We work with our customers to development complete custom solutions for an optimum overall process.
To ensure the right choice, you can lease our centrifuges for testing and integrate them into your processes.
Want to know more about the process and our Flottweg Tricanter®? Use our contact form and get in touch with us.
Similar fields of application

Do you have any questions about applications?
Would you like to know more?
Talk to us or write us!