The Flottweg Soft Shot® Ejection System for Separators
The self-emptying disc stack centrifuges from Flottweg have the Soft Shot® ejection system as standard equipment in order to carry the separated solids out of the bowl. This solid ejection system allows any combination of partial and full emptying. Depending on the product being processed and the consistency of the solid, adapting the type of ejection provides optimum operation. The ejection times for the discharged solids can be adjusted very precisely to tenths of a second.
The solid ejection itself can take place:
On a schedule (configured in accordance with the customer's own experience)

On a product-dependent basis by a monitoring program (using a corresponding measurement system such as a turbidity measurement)
The special structural feature of the Soft Shot® system is that part of the control water always remains under the piston. That means that during ejection, the piston cannot strike the bottom of the bowl. The solid is ejected in a gentle, quiet manner. Partial ejection is short, precise, and nearly constant-volume, while still being quiet. There is no bang on ejection.
How the Flottweg Soft Shot® System Works
The solids centrifuged out during the separation process collect in the solids chamber of the bowl, formed by the double cone. The floor of the cone (the piston) moves hydraulically in the vertical direction. This exposes the solid ejection openings in the lower part of the bowl. Accelerated by the rotation of the bowl, the centrifuged solids move into the solids trap and from there into the optional solids cyclone. A closed system of pumps and lines transports the solids for further processing or disposal.
Ejection can take place as either a partial or a full ejection, or as any combination of these two types.
What does partial or full ejection mean, actually?
In a partial ejection, only part of the content of the solids chamber is ejected. No interruption is needed in the product feed. The quantity ejected can be varied simply by changing parameters on the control unit.
In full ejection, the entire contents of the bowl are ejected. The product feed is closed during that time. By using suitable displacement liquids before the actual ejection, loss of product liquids can be avoided.
The Advantages of the Flottweg Soft Shot® Ejection System
Acoustically nearly unnoticeable solid ejection
Precise, arbitrary combination of partial or full ejection for highest product yield
Reduced wear on highly stressed components
Ejection times can be adjusted precisely to tenths of a second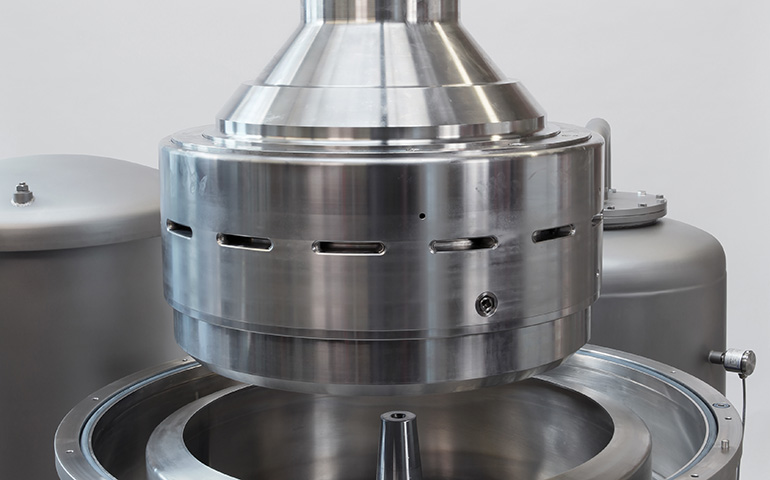 The patented Soft Shot® discharge system ensures acoustically nearly imperceptible solids discharge.

Would you like to learn more about our process solutions?