Separation and Refinement of Palm Oil
Palm oil is one of the most manufactured oils in the world. The global demand for palm oil has increased rapidly over the last two decades. It is used as a raw material in the foodstuffs industry, or as an end product by consumers. In addition, palm oil is the precursor in biodiesel manufacture. Palm oil is extracted in a multi-stage process.
Flottweg Tricanter® for Palm Oil Extraction
In the extraction of palm oil, the Tricanter® is used for
direct processing of the crude oil after the screw press
crude oil recovery from the sludge after the CS tank
crude oil recovery from the wastewater flow of the palm oil mill
The Flottweg Tricanter® permits three-phase separation: simultaneous separation of two liquids (oil and water) with different densities, and a solid phase. Subject to the solid being the heaviest phase, both liquids can be output separately.
Advantages of The Flottweg Tricanter® in Palm Oil Refining
The Flottweg Tricanter® offers you decisive additional benefits in palm oil extraction:
Pure oil - no additional refining stage required
Short process times
Minimum heat losses
Scarcely any free fatty acids are created
Minimum consumption of dilution water
Minimum wastewater is produced
Maximum process flexibility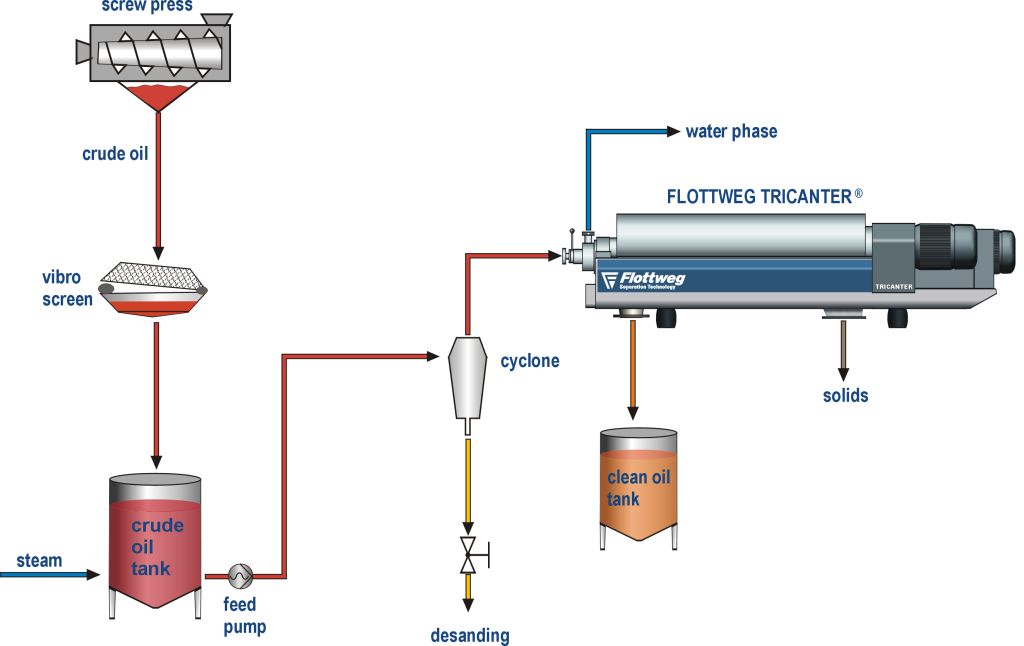 Flottweg - Your Partner in Producing Palm Oil
Adapted Wear Protection
All of the parts exposed to wear are equipped with special protection for manufacturing palm oil.
The Flottweg Simp Drive®
The Flottweg Simp Drive® regulates the differential speed according to the scroll torque. The Flottweg Tricanter® adapts itself automatically to different load levels and processes the palm oil to achieve the maximum total dry solids in each case.
Impeller
The clarified liquid phase is output under pressure from the bowl via an adjustable impeller in the closed system. This guarantees optimum separation between the phases. The impeller can also be adjusted during the ongoing process.
Quality Management
Flottweg is certified to ISO 9001 and builds its palm oil refining products according to the latest technical standards - Made in Germany.
References
Flottweg Tricanter® machines are used worldwide for refining palm oil. Numerous well known reference customers are highly satisfied with our services. Why not see the benefits for yourself as well?
Similar fields of application

Do you have any questions about applications?
Would you like to know more?
Talk to us or write us!