Flexible, Maintenance-Friendly and Powerful
Flottweg operates more than 1,000 applications around the world. Each of these technology processes is as individual as our Z Series decanter centrifuges.
The high-performance decanters of the Flottweg Z Series have a modular design. That makes them customizable to any individual customer need and specific application. This is the basis for the best possible separation results.
The High-Performance Decanters of the Flottweg Z Series for Two-Phase or Three-Phase Separation
As truly modular centrifuges, they are available both as two-phase decanters or as Tricanters® (three-phase decanters).
For every process, the centrifuges used require a different capacity. Thus, our Z Series decanter centrifuges are available in a wide variety of sizes. They can be modularly adapted to specific separation tasks.
Our Flottweg Z Series High-Performance Decanters: Maximum Optimization and Automation
Maintenance-friendly design ensures minimum downtime.
Optimum separation results and energy recovery, due to optimized bowl and scroll geometry
Complete wear protection, high-quality stainless steel, use of high-quality bearings, and a robust design for long service life
Space-saving installation
Automated operation possible
Thanks to Modular Design, the Right Decanter Centrifuge for Every Application
Hygienic Variant
In particular when processing foods, it is essential that all process components meet hygienic standards. The cleanliness of decanter centrifuges plays a decisive role in the food industry. The product-wetted parts of our hygienic Flottweg decanters have a minimum of hard-to-clean places. The welding seams are also hygienically ground. Spray nozzles are provided in the bowl, the solids discharge and the rotor. These permit the complete cleaning of product-wetted parts – without first disassembling the machine.
ATEX Variant
ATEX – Atmosphère Explosible – is a directive of the European Union for the plants and machines used in areas at risk of explosion. It applies when explosive mixtures are present in the environment or they are processed in the decanter.. To prevent an explosion (ignition source prevention) or the creation of an explosive atmosphere in the decanter, it must have protective measures. Flottweg decanters meet the required directive for safe operation in Zones 1 and 2.
Pond Depth
Pond depth determines the time liquid stays in the decanter bowl. Depending on the application and separation results, different pond depths can be used.
Shallow pond: The liquid layer in the centrifuge is thin. As a result, the clarifying zone is comparatively short. This reduces clarification performance while simultaneously improving the dry substance of the discharged solids.
Deep pond: The liquid layer in the centrifuge increases. This extends the clarifying zone and improves clarification performance. At the same time, the dry section is shortened, so the solids discharged are wetter.
For optimum pond depth, Flottweg draws on its entire know-how from more than 60 years of experience in solid/liquid separation.
Centrifuge Drive Systems
To accelerate the medium to be separated, the bowl must rotate at high speed. At the same time, the decanter scroll must rotate at a low speed differential with high torque.
This challenge is mastered optimally by all Flottweg drives. Depending on the process and fluctuations in incoming mixture, we offer different drive systems.
The Flottweg Simp Drive®'s drive permits the bowl and differential speed to be adjusted individually. With an optimum price/performance ratio and a broad application spectrum, it is suitable for demanding separation tasks with variable feed concentrations.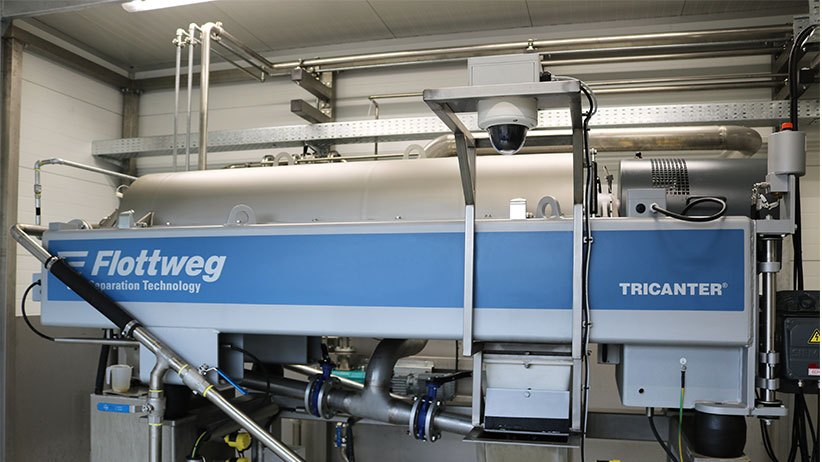 Decanter Centrifuges of the Z Series: Designed for Your Success!
Modular, maintenance-friendly and powerful – see the characteristics of the Flottweg Z Series centrifuges and our engineering competence for yourself!
Long service life and reliability of installed decanter centrifuges are the province of our Flottweg service. Regular maintenance and optimization ready the high-speed decanters for use 24 hours a day, seven days a week.
Count on the leading specialists in continuous-use centrifuges. Get in touch with our decanter centrifuge experts!
Z2E
| | |
| --- | --- |
| Dimensions [mm/ft]* | 2500x700x700 / 8,13x2,39x2,33 |
| Weight [kg/lb]* | 1250 / 2706 |
Z3E
| | |
| --- | --- |
| Dimensions [mm/ft]* | 2700x800x800 / 9,64x2,76x2,64 |
| Weight [kg/lb]* | 1600 /3520 |
Z4E
| | |
| --- | --- |
| Dimensions [mm/ft]* | 3500x1000x1200 / 12,3x3,28x3,94 |
| Weight [kg/lb]* | 3000 /6600 |
Z5E
| | |
| --- | --- |
| Dimensions [mm/ft]* | 4200x1600x1100 / 14,86x5,12x3,71 |
| Weight [kg/lb]* | 6200 / 13640 |
Z6E
| | |
| --- | --- |
| Dimensions [mm/ft]* | 4.900x1.800x1300 / 17,09x5,81x4,13 |
| Weight [kg/lb]* | 9750 / 21450 |
Z8E
| | |
| --- | --- |
| Dimensions [mm/ft]* | 6400x2000x1500 / 21,12x6,56x4,85 |
| Weight [kg/lb]* | 14140 / 31108 |
Z92
* The values are approximate and may differ from the actual values.

| | |
| --- | --- |
| Dimensions [mm/ft]* | 5900x2800x1700 / 19,39x9,09x5,67 |
| Weight [kg/lb]* | 18000 /39600 |

Are you interested in Flottweg decanter centrifuges?
Would you like to know more?
Talk to us or write us!