Cost-Effective PVC Dewatering
Polyvinyl chloride (PVC) is a thermoplastic polymer processed between 320 and 392 degrees Farenheit (160 C and 200 C).
About 34 million metric tons of PVC are manufactured annually worldwide. Important PVC applications include the building industry, the electrical industry and the automotive industry.
Lower Residual Moisture in PVC Dewatering with Decanter Centrifuges
PVC is produced by the polymerization of vinyl chloride monomer (VCM). There are three manufacturing processes:
The suspension process
The microsuspension process
The emulsion process
The manufacture of PVC largely uses the suspension process. Decanter centrifuges are required to dewater the PVC suspension after polymerization. PVC dewatered using Flottweg decanter centrifuges has a lower residual moisture level, which reduces the cost of the subsequent thermal drying process.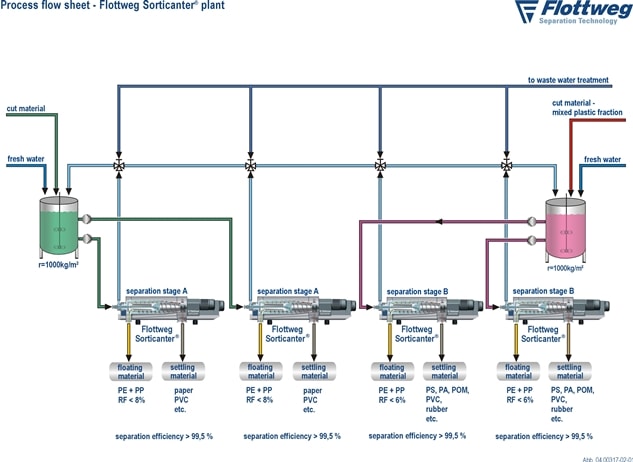 Flottweg Decanter Centrifuges Make the Difference Clear
Special Wear Protection
The high forces at work in the centrifuge result in wear on the machine. The wear protection in Flottweg decanter centrifuges reduces wear, and the parts affected can be replaced and renewed.
Materials
Product-wetted parts in Flottweg decanter centrifuges are fabricated from high-quality, acid- and rust-resistant stainless steeI, resulting in long service life, the highest possible product quality throughout the process and better stability of the decanter centrifuge.
The Flottweg Simp Drive®
Decanter centrifuges adapt automatically to different load conditions. The Flottweg Simp Drive regulates the differential speed according to the scroll torque, allowing it to dewater the PVC to the maximum total dry solids content.
More Success in PVC Dewatering with Flottweg
Using Flottweg decanter centrifuges saves money on thermal drying.
Designed for long life and wear resistance, Flottweg decanter centrifuges are easily available.
Flottweg has decades of experience with centrifugal dewatering of PVC:
Built in Germany according to the latest technical standards, Flottweg decanter centrifuges are certified to DIN EN ISO 9001.
Flottweg provides superior customer service 24/7 and offers global spare-parts delivery.
Want to reduce PVC dewatering costs? Get Flottweg centrifuges! Contact Flottweg today for a personalized consultation.
Similar fields of application

Do you have any questions about applications?
Would you like to know more?
Talk to us or write us!