Decanters and separators used in food processing.
Food manufacturers consider the high quality of their end products and a cost-effective overall process to be crucial factors for success in competitive markets.
Flottweg food centrifuges support many separation processes in food processing. Our decanters and separators are high-quality machines with numerous functions and automatic processes; they contribute to a high yield and consistently high product quality.
Flottweg has decades of experience in the manufacture of separation solutions for the food industry. We already have over 4,000 machines in use in this area. Our centrifuges are distinguished by the highest hygienic standards, flexibility, and "Made in Germany" product quality. Thanks to our worldwide service network, we can guarantee you maximum availability of our machines for the continuous production of your products.
Flottweg industrial centrifuges in use in the production of starch
Our Flottweg industrial centrifuges and centrifugal separators separate the starch and protein components from the various flour suspensions, separate and dewater fibers in the individual production processes, or recycle the wash and process water. Flottweg decanter centrifuges and nozzle separators can process a high volume of the solid-liquid mixture and ensure consistent quality of the discharged solids.
Our centrifuges and belt presses are optimally adapted to the hygiene requirements of the starch industry. Individually tailored to the respective framework conditions and the respective separation process, our centrifuges are used in the recovery of a wide variety of starches:
Flottweg centrifuges for the extraction of plant proteins
Flottweg decanter centrifuges and Sedicanter® are used in almost all steps of protein production. In the area of plant protein, Flottweg offers complete system solutions or individual equipment, depending on customer requirements. With the help of Flottweg system solutions, high-quality plant-based protein can be obtained with maximum yield in an efficient and resource-conserving way. Thanks to the holistic Flottweg concept, the by-products that are obtained are also optimally refined and add value. This optimizes the creation of value and minimizes waste material flow for a completely sustainable process.
In addition to classic raw materials such as seeds from starch plants (for example peas, beans, lentils) and oil plants (such as soy, rapeseed, lupine), high-quality protein can still be obtained even from ordinary plant components such as leaves and roots. Using our technology platform, we work with our customers to develop a customized process for each raw material.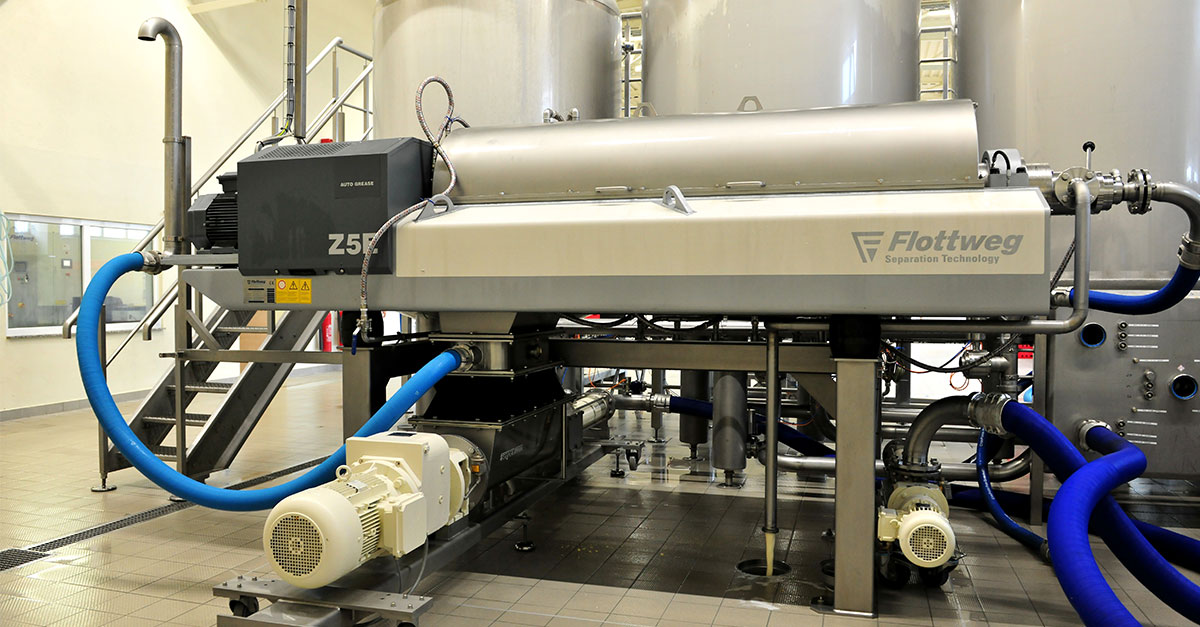 Flottweg food centrifuges for the production of plant-based milk alternatives
Plant-based milk substitutes are becoming increasingly important in the food industry and among consumers due to various health and environmental aspects. Flottweg decanter centrifuges, Sedicanter® and belt presses help increase efficiency in the production of plant-based milk alternatives while achieving consistently high product quality.
Our centrifuges can be easily integrated into fully automated processing lines and are individually adapted to customer and process requirements. Whether oats, nuts or soy - our centrifuges are highly flexible thanks to unique features and consistently get the most out of the raw material:
Flottweg decanters and separators for the dairy industry
Our Flottweg decanters and separators clarify whey by removing fine particles. They also efficiently separate and dewater lactose, casein, and whey dust, and they fractionate filtration water into valuable phases during the production of mozzarella. Our food centrifuges are used in various process steps, be it in the separation of cheese dust from whey, in the dewatering of cheese curds, or in the various washing processes used in the production of lactose or casein.
Flottweg decanters and separators are designed to meet current hygiene standards and can be easily integrated into fully automatic CIP cleaning systems. Whether in the extraction of lactose and casein or in whey dedusting, ultimately only one thing counts for Flottweg: the success of our customers.
Flottweg Decanters for the Sugar Industry
Sugar beets must be cleaned of soil and sand at the start of processing. This results in significant amounts of washing water. The resulting sludge must be separated from the water as efficiently as possible. Flottweg decanter centrifuges efficiently dewater the sludge and save the producer transport and disposal costs. The clarified process water can also be returned to the washing process.
A viscous, dark brown syrup known as molasses is a byproduct of the extraction of sugar from sugar beets and sugar cane. After Flottweg decanters have separated unwanted components (such as sand, salts, proteins), the by-product molasses can be used as a valuable material for many other processes (e.g. fermentation processes).
Various starch suspensions are also often used as the starting material to produce sugar solutions. The process of converting the starch into sugar produces a raw sugar syrup, which can be efficiently clarified of impurities using specially developed Flottweg centrifuges. The raw sugar juice from sugar cane is freed from impurities by means of various tools and processes. This produces a chalky slurry (often referred to as cachaza in South America) which still contains large amounts of sugar. Flottweg decanters make it possible to increase the yield enormously by recovering the sugar compounds dissolved during the washing processes. Flottweg decanters help to produce high-quality products and turn by-products into valuable materials.
Our food centrifuges in use at Viresol
Viresol's main concern was to reduce the company's environmental footprint. Above all, it was about using less energy and water. Flottweg supplied the right overall package for this: two Tricanters®, four decanters, two Sedicanters®, and the associated equipment.
This included dough mixers, bow screens, piping and the structural design of the hall. This allows the energy-efficient production of various products, such as starch, gluten, maltodextrin, feed and ethanol. Learn more about the results in this video!