Efficient Design for Wheat Starch Extraction
Wheat is one of the most important raw materials in the world for the production of starch and its byproducts. Manufacturers rely on decanter centrifuges to produce starch.
In addition to wheat, potatoes, corn and peas are also used to extract starch, gluten and proteins.
Variety of End Products in Wheat Starch Production
Purified, dewatered vital gluten
B-starch suspension for further processing
Purified A-starch suspension for manufacturing glucose or starch, or as the basis for modified starch
From Wheat to Starch and Gluten in a Single Step
When starch is produced, wheat flour gets broken down into its components: A-starch, pentosane and gluten, or B-starch. Using the decanter centrifuge, all of these components can be extracted in a closed system.
The Flottweg Tricanter® is the world's most efficient method for wheat starch extraction. It separates the contents in one step. That increases your effectiveness and reduces process costs.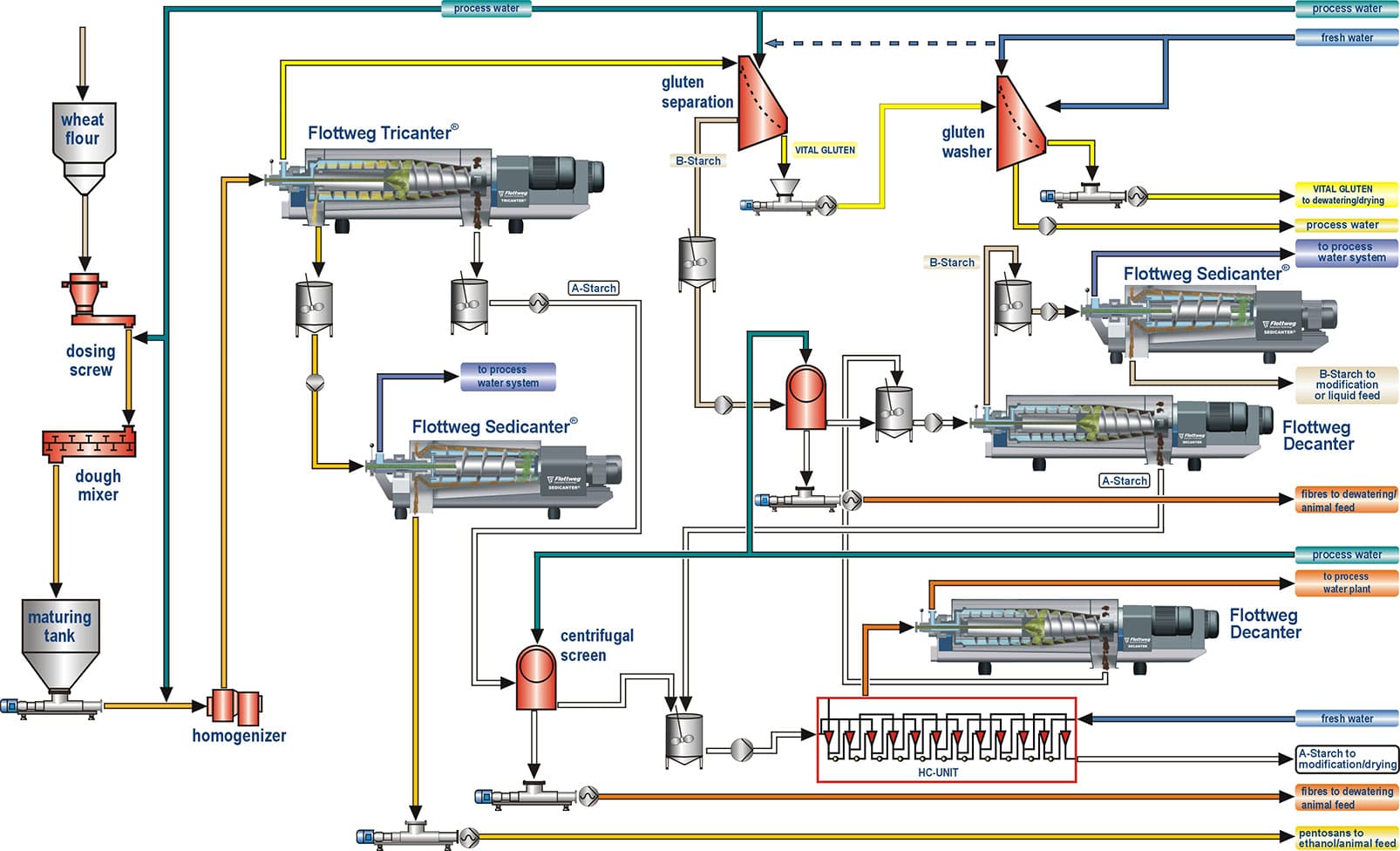 More Efficiency With the Flottweg Tricanter:
Separation of starch and other contents in a single step
Separation of entire A-starch as a concentrate
Extraction of gluten and B-starch
Separation of lightweight components
The Flottweg Tricanter Offers Maximum Flexibility
High separation rate Good splitting of wheat starch facilitates the subsequent processing operations and also increases both product quality and yield.
Optimum Throughflow: Only the Tricanter and its adjustable impeller offer the optimum throughflow and an optimum end product, even with a fluctuating feed.
Flexibly adaptable: High-quality production continues, even given a fluctuating raw material quality. Depending on the customer's requirements, the decanter centrifuge can manufacture a moist or dry end product.
Flottweg – Your Partner for Starch Extraction
Flottweg consultants are at your side throughout the project. We adapt process lines to your needs and support you during implementation. From the initial inquiry to commissioning and beyond, our experts are there for you.
Interested in our Tricanter or want to learn more about wheat starch extraction? Our specialists are at your disposal, so contact us now!
Similar fields of application

Do you have any questions about applications?
Would you like to know more?
Talk to us or write us!