Flottweg Separation Technology, Inc. – Flottweg U.S.A.
US separation solutions - Engineered For Your Success
With over 40 years of experience in the US markets, Flottweg offers high performance industrial centrifuges, belt presses, and complete custom-designed processing systems for all types of liquid-solid and liquid-liquid-solid separation applications. Flottweg uses more than 60 years of decanter and disc stack centrifuge technology knowledge to custom engineer separation solutions for our US customers in industries such as:
Edible Fats and Oils
Biofuels
Beverages
Chemicals, Pharmaceuticals, Food
Municipalities
Mining
And many more.
Our headquarters U.S.A.
On January 2, 2008, Flottweg Separation Technology, Inc., a wholly owned subsidiary of Flottweg SE located in Vilsbiburg, Germany, opened a new sales, engineering, distribution, testing, and repair facility. Located in Independence, Kentucky U.S.A. (greater Cincinnati), our company is dedicated to new equipment supply, process solution development, and aftermarket parts and service support for all industries and applications in the United States. Since its opening, the facility has grown to nearly 40,000 square feet and is fully staffed with more than 50 engineering, technical, sales, marketing, and administrative professionals to assist our customers.
Aftermarket service
Our new facility inventories approximately $6 million in parts, rotating assemblies and accessories to serve our client's immediate aftermarket needs. In-house aftermarket repair capabilities include, but are not limited to, machining, balancing, welding, and sandblasting to ensure the fastest possible turnaround time and minimal production downtime for our customers.
Equipment supply
Flottweg Separation Technology, Inc. has opened six satellite sales offices to better support our customers on a regional basis. Located in the Northeast, Southeast, Midwest and West Coast of the U.S.A, our customers have an available regional contact in the same time zone.
A smaller aftermarket sales and tech support office is located in Russell, Kansas, with plans to open another one on the West Coast in the near future. An aftermarket group of over 30 employees, including 20 full-time service technicians, are on call to support Flottweg centrifuges and customers coast to coast.
Process solution development
Our feasibility-testing lab located at our Kentucky Headquarters is utilized to develop processing solutions for existing and potential customers. Our facility features an in-house testing bay and laboratory. Our rental fleet currently features over 12 pilot-sized and smaller commercial sized centrifuges, as well as skidded systems and a fully enclosed, mobile demo container. All are available where larger-scale trials or on-site testing are required to validate feasibility and prove maximum processing effectiveness and efficiency under real-world conditions.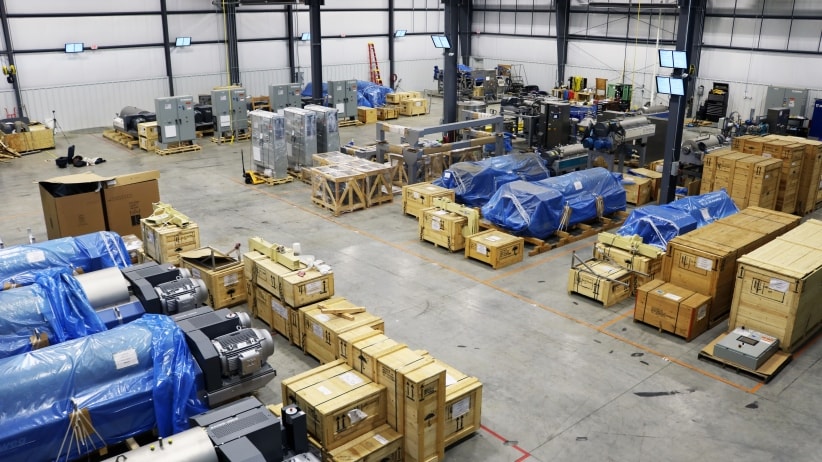 Engineering services
Our engineering staff stands equipped to design customized skidded systems featuring ancillary equipment such as pumps, tanks, flow measurement, piping, and complete wiring to ease installation at a customer's site. We also custom design elevation stands to a customer's needs. Flottweg designs and builds control panels on a project by project basis that are suited directly to a customer's needs. The control panel offered is a complete solution to control all aspects of the centrifuge, as well as any surrounding equipment supplied as part of a package. Control panels are built locally to UL and cUL standards for acceptance in the US market.
Please contact us today. We are looking forward to working with you!
Contact Flottweg in the U.S.A.
Your Aftermarket Contacts
Spare parts orders / RFQ's / tracking information / Invoice information / Technichal support / Service tech scheduling / machine maintenance: fwusamsales@flottweg.net
Main Office 859-448-2300
Page Miller 859-283-6285
Billy McGazi 859-448-2315
Inspection reports / estimates for repairs:
Barry Becker 859-448-2325 bbecker@flottweg.net
Matt Mason 859-448-2332 mmason@flottweg.net