Manufacture of Biodiesel Using the Tricanter®, Decanters and Biodiesel Separators
Biodiesel is a fuel manufactured from natural fats and oils. The principal raw materials are vegetable oils such as rapeseed oil, sunflower oil, palm oil, etc.

Biodiesel is used as a replacement for conventional diesel fuel, and thus reduces dependency on fossil fuels. Different processes are used for manufacturing biodiesel, depending on the type and quality of the raw material.
Centrifuges For Manufacturing Biodiesel are Employed in Several Stages of The Process:

Purifiers for separating glycerol water from fatty acid ester and biodiesel washing
Clarifier separator for separating ultrafine substances from biodiesel
Tricanter® for processing the raw material before ersterification
Tricanter® for 3-phase separation of free fatty acids, glycerol and precipitated salts, e.g. calcium sulphate, in one working procedure in glycerol processing
Decanter for rewashing precipitated salts, e.g. calcium sulphate in glycerol processing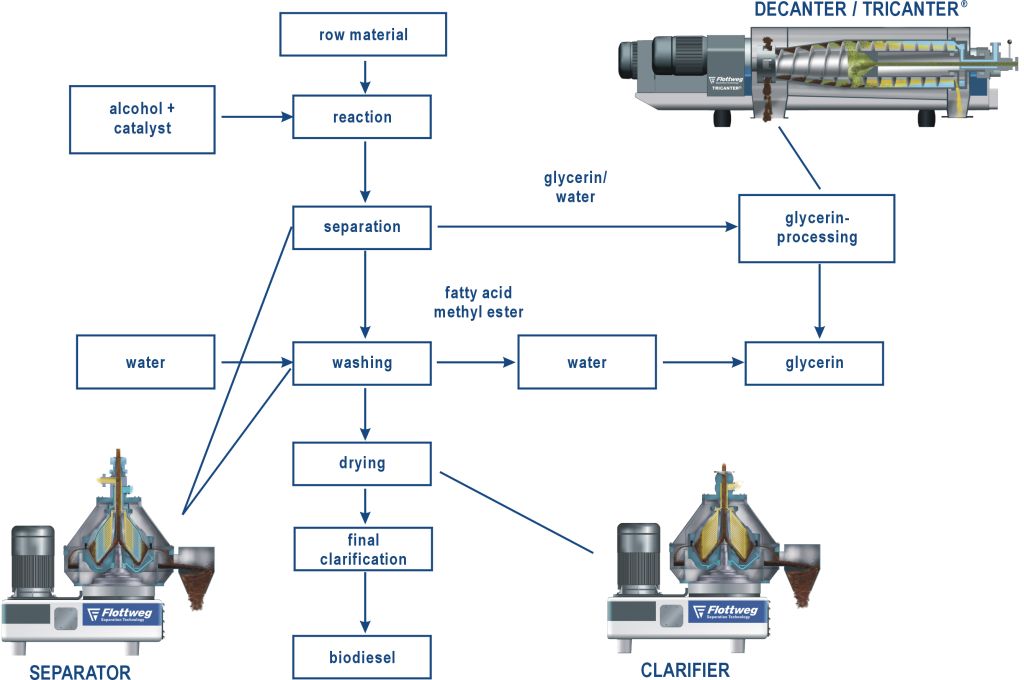 Your Advantages when Manufacturing Biodiesel with Centrifuges:
Better quality of biodiesel and byproducts by removal of impurities before conversion
Increasing the separation accuracy in glycerol separation and biodiesel washing
Avoidance of deposits and filter problems due to efficient separation of sterol glucosides
Maximum degreasing of the solid
Tailor-made components - also for retrofitting to existing processes
Biodiesel Glycerol Separation
For an optimum degree of transesterification, the resulting glycerol must be separated as quickly and completely as possible. Separators have proven effective in these tasks over decades. The separated glycerol/water mixture can be processed for use as a raw material in the pharmaceuticals and cosmetics industries.
Biodiesel Washing
In biodiesel washing, a large number of disruptive byproducts are washed out with water, and then removed with the separator. Biodiesel washing makes it possible to improve the quality of the product further by a decisive amount. This also reduces the burden on downstream units.
Your Advantages in Biodiesel Glycerol Separation and Biodiesel Washing:
Highly efficient separation with the separator, with minimum electricity consumption
High purity and high quality
Explosion protection according to ATEX95 guidelines
All components in gas-tight configuration with nitrogen blanketing
Biodiesel Fine Clarification
Biodiesel fine clarification involves the dried biodiesel being additionally cleaned or polished using a separator. Remaining impurities are removed, meaning that the product quality is further increased.
Your Advantages in Biodiesel Fine Clarification:
"Polish" your end product!
Remove the last traces of solids
Meet the strictest quality standards
Removal of Sterol Glucosides
Under certain conditions, above all when using palm oil and soya oil as raw materials, it is possible for sterol glucosides to precipitate in the biodiesel. Processing oils of this kind usually entails increased and expensive maintenance for the production system. Separators can efficiently remove the precipitations of sterol glucosides, thereby reducing the risk of process malfunctions.
Your Advantages in Removing Sterol Glucosides:
Efficiently remove sterol glucosides with the separator
Maximum product quality
Reliability in the process and in meeting quality standards
Glycerol Processing and Salt Washing
The byproducts from biodiesel manufacture can also be processed further to deliver valuable materials. In addition to the glycerol, the salt used can also be recovered with a high level of purity.
Your Advantages in Glycerol Processing and Salt Washing
Efficient mechanical separation - high dry matter content in the obtained assault
Protection of the drying technology systems - salt is efficiently removed
Robust technology and simple operation
Similar fields of application

Do you have any questions about applications?
Would you like to know more?
Talk to us or write us!