The Flottweg C Series
The decanter centrifuge for wastewater and sewage sludge
Flottweg Decanter Centrifuges for Wastewater and Sewage Sludge
Requirements for the quality and efficiency of sewage treatment plants increase year after year, driven not least by the increasing costs of energy and disposal. As a result, the state of the art is now to use decanter centrifuges to dewater the incoming sludge. The high-performance centrifuges of the Flottweg C series achieve the best possible values for total dry solids in the sludge.

By combining an energy-efficient, powerful drive, the Flottweg Simp Drive®, with a continuously optimized decanter geometry, Flottweg decanter centrifuges achieve values several percentage points above those of other models. The right machine is available for any size system. The continuous further development of Flottweg decanter centrifuges guarantees not only user-friendly control, but also optimum sludge thickening (the OSE) and the best possible sludge dewatering (HTS). Flottweg has developed the C series especially for this purpose in order to meet the requirements of the wastewater market explicitly. These decanter centrifuges have a power argument in the unit count of over 350 successfully working machines.
The Flottweg C series
C2E decanter
The Flottweg decanter C2E was specially developed to treat small quantities of sewage sludge. It offers all of the traditional Flottweg know-how in a compact, space-saving design.
| | |
| --- | --- |
| Length | 106.29 in (2700 mm) |
| Width | 35.43 in (900 mm) |
| Height | 31.49 in (800 mm) |
| Weight | 3086.47 lbs (1400 kg) |
| Bowl speed | 4755 rpm |
| Throughflow HTS | 5.23-13.07 yd3/hr (4-10 m³/hr) |
| Throughflow OSE | 7.84-15.69 yd3/hr (6-12 m³/hr) |
| | |
C3E decanter
The Flottweg C3E is designed for sewage sludge in quantities ranging from small to medium. Thanks to the Flottweg Simp Drive gearbox, it can, like all centrifuges of the C series, react immediately to changing feed concentrations.
| | |
| --- | --- |
| Length | 117.32 in (2980 mm) |
| Width | 43.31 in (1100 mm) |
| Height | 35.04 in (890 mm) |
| Weight | 3891.16 lbs (1765 kg) |
| Bowl speed | 4300 rpm |
| Throughflow HTS | 9.8-19.62 yd3/hr (7.5 – 15 m³/h) |
| Throughflow OSE | 13.07-26.16 yd3/hr (10-20 m³/hr) |
C4E decanter
| | |
| --- | --- |
| Length | 138.58 in (3520 mm) |
| Width | 44.88 in (1140 mm) |
| Height | 40.16 in (1020 mm) |
| Weight | 6084.76 lbs (2760 kg) |
| Bowl speed | 3650 rpm |
| Throughflow HTS | 19.62-52.32 yd3/hr (15-40 m³/hr) |
| Throughflow OSE | 26.16-52.32 yd3/hr (20-40 m³/hr) |
C5E decanter
The Flottweg decanter C5E is optimally suited for medium to large sewage sludge loads.
| | |
| --- | --- |
| Length | 160.24 in (4070 mm) |
| Width | 59.45 in (1510 mm) |
| Height | 47.64 in (1210 mm) |
| Weight | 11089,25 lbs (‍5.030 kg) |
| Bowl speed | 54.16 hz (3250 rpm) |
| Throughflow HTS | 32.69-85.01 yd3/hr (25-65 m³/hr) |
| Throughflow OSE | 45.78-78.47 yd3/hr (35-60 m3/hr) 3/h |
C7E decanter
The C7E is responsible for large quantities of waste waer. Here, the increase of dry matter content and associated reduction of sludge volume is important for the efficiency of the sewage treatment plant.
| | |
| --- | --- |
| Length | 188.97 in (4800 mm) |
| Width | 67.72 in (1720 mm) |
| Height | 54.72 in (1390 mm) |
| Weight | 18077,91 lbs (‍8.200 kg) |
| Bowl speed | 2920 rpm |
| Throughflow HTS | 65.39-156.95 yd3/hr (50-120 m³/hr) |
| Throughflow OSE | 65.39-130.79 yd3/hr (50-100 m³/hr) |
NEW: C8E decanter
The Flottweg C8E, the 'giant' of our C-series decanter centrifuges, tackles the big loads at sewage treatment plants.
| | |
| --- | --- |
| Length | 232.67 in (5910 mm) |
| Width | 78.74 in (2000 mm) |
| Height | 57.87 in (1470 mm) |
| Weight | 28814,42 lbs (13.070 kg) |
| Bowl speed | 2650 rpm |
| Throughflow HTS | 91.55-209.27 yd3/hr (70-160 m³/hr) |
Full power despite reduced energy requirements
Energy savings in wastewater treatment, up to and including energy-autonomous sewage treatment plants, are no longer just nice to have but actually a part of the community environmental movement. This movement also includes dewatering technology, which has its part to play. The Flottweg C series accelerates the incoming separation medium in a particularly advantageous manner. Thanks to the combination of a large and geometrically optimized sludge discharge, power consumption can be reduced by up to 30 percent. Our customers also have the option of using the Flottweg Recuvane® System. In all, you can achieve energy savings of up to 50 percent! That's as sustainable as it gets.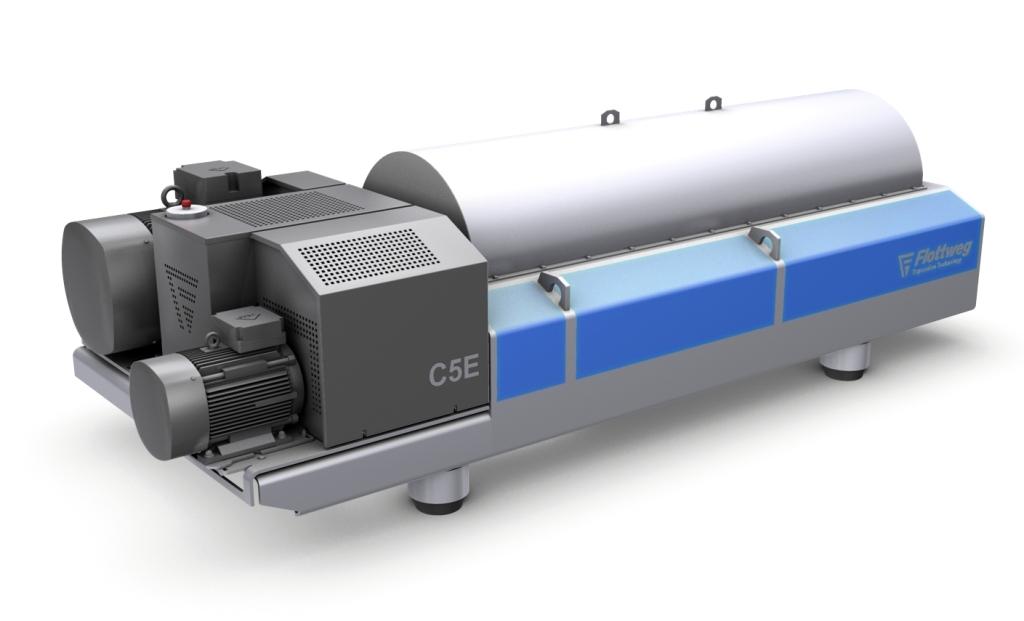 The Flottweg Recuvane® System: Choose the lowest energy consumption
The lion's share of electric power is required to accelerate the separation medium. After separation, the liquid (centrate) exits the system, leaving the rotational energy unused. The Flottweg Recuvane® System allows customers to recover part of that rotational energy. A carefully designed centrate discharge supports the main drive, leading directly to a reduction in electrical power consumption of about 20 percent. The greatest possible efficiency = great customer satisfaction.
Performance and reliability of the Flottweg C series
The Flottweg C series is a high-performance centrifuge for sludge dewatering with the best possible total dry solids values. For example, by increasing total dry solid content from 23 percent to 25 percent, Flottweg customers can reduce sludge volume by eight percent. As a result, transport and disposal costs also fall by eight percent. That savings potential means that an investment in the latest dewatering technology from Flottweg can be amortized over a very short time. The best possible quality and the greatest possible reliability also permit the operation of Flottweg decanter centrifuges for 20 years or more.

Choose the high-performance centrifuges in the Flottweg C series and take advantage of ongoing savings in transport and disposal costs.
The Flottweg Simp Drive®: Automatic regulation and full torque
The Simp Drive® regulates the differential speed between the decanter bowl and the decanter scroll depending on the scroll torque. This is done during ongoing operation. The bowl and scroll are completely independent of one another. The Flottweg Simp Drive® provides the full torque both with the bowl at rest and at maximum speed. During ongoing operation, any change in feed rate is detected by automatic torque regulation. This permits Flottweg to ensure the best possible quality of the solids discharged, since the system always reacts to changing product characteristics in the feed.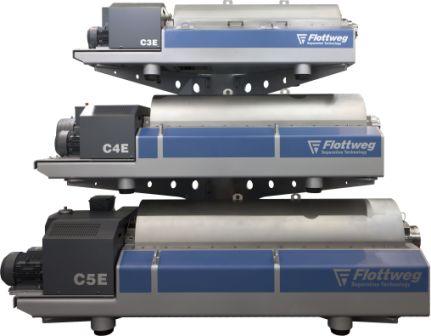 The Flottweg Wastewater Decanters - Advantages Over Other Processes and Competitors' Machines
No health risk for system personnel (no aerosol pollution and no escaping contamination or odors due to closed system)
Continuously provides the best possible separation results due to its automatic and independent regulation of the bowl and differential speeds (Simp Drive®)
Minimum downtime thanks to the maintenance-friendly, easy-access design of the C series
Greater sedimentation volumes (due to the deep pond and steep cone) permits a higher power density (by 10 - 20 percent) in less space
Reduced energy consumption by up to 30 percent due to large, geometrically optimized sludge discharge
Reduction in operating costs due to reduced flocculant consumption
Energy savings of about 20 percent using the Flottweg Recuvane® System
Minimal supervision needed, even including automated 24/7 operation
Highest possible service life due to the use of high-quality stainless steel (rust- and acid-resistant) and an optimized wear protection package
The Wastewater Decanters of The Flottweg C Series
Decades of experience in sewage sludge and wastewater make Flottweg one of the leading providers of mechanical separation technology. We meet the special requirements of sewage treatment plants and water management in terms of dewatering performance, cost-effectiveness, and user-friendliness. Well-known and especially satisfied customers around the world can confirm that. The Flottweg decanters in the C series are attractive for their cost-effectiveness, performance, and long service life. The right machine is available for any size system.

We can offer you comprehensive know-how and customized systems. Our experts would be happy to talk to you.