Flottweg Centrifuges for Olive Oil Production
For more than 40 years now, Flottweg has used decanters, Tricanter® machines and separators for manufacturing and extracting olive oil. The process consists of the 1st and 2nd extraction. Flottweg centrifuges can be found in all countries where olive oil is manufactured - e.g. Spain, Italy, Greece, North Africa, Turkey, Syria, Australia and even in China.

In olive oil manufacture, what counts is high yield, outstanding quality as well as low process and energy costs. This can only be achieved by using a centrifuge to extract the olive oil. Put your trust in Flottweg's decades of experience, and specially adapted machines for manufacturing olive oil.
Our Machines in Olive Oil Manufacture
Decanter for 2-phase of separation - oil and solids are separated
Tricanter® for 3-phase separation - water, oil and solids are separated
Separator for treating and refining the olive oil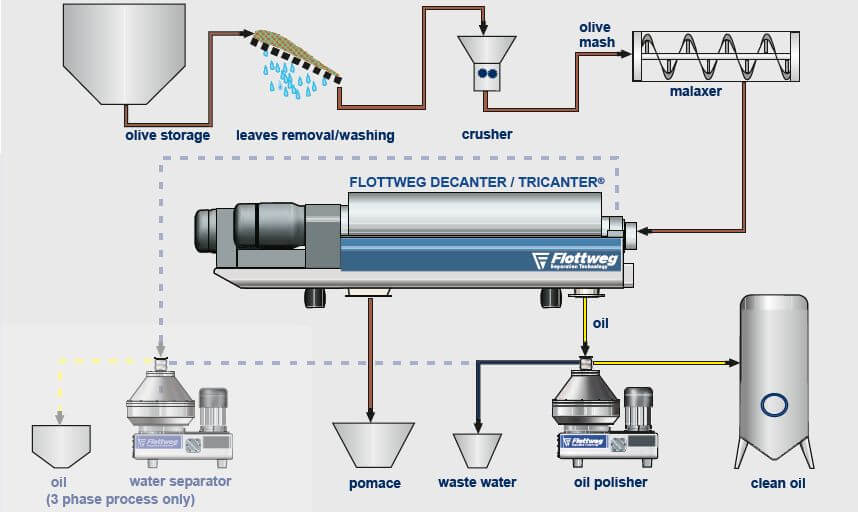 Your Advantages in Manufacturing and Extracting Olive Oil:
Very low fresh water consumption and a small amount of resulting wastewater
First-class oil quality and a high yield of raw materials
Low use of personnel because of continuous and automatic operation
Low energy and process costs
Long service life of the machines and comparatively low maintenance requirements
Higher Yield due to the 2nd Extraction in Olive Oil Manufacture
Depending on the olives and processing, the decanter or Tricanter® can extract between 85 and 90% of the olive oil in the 1st extraction. The yield from olive oil manufacture can be increased even further with a 2nd extraction. The olive oil yield increases to as much as 96% by combining the 1st and 2nd extractions.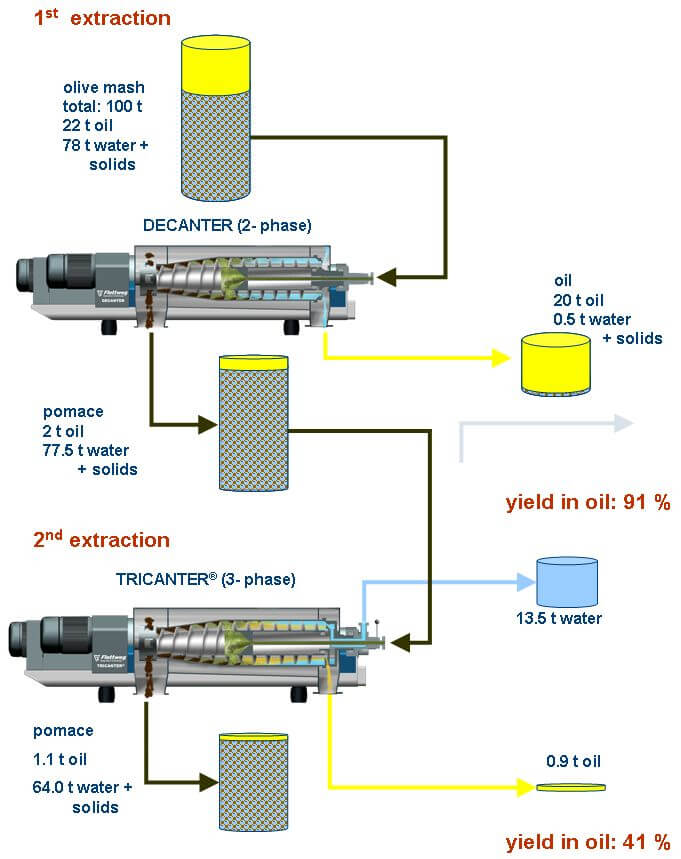 The "Type S" C-Decanter
Every drop of olive oil counts! So it was a logical step for us to expand our C series. New for your olive oil production: The C series Type S (Super performance).
This centrifuge is the perfect addition to the existing product line. It can open up entirely new opportunities for manufacturers of olive oil.
Technical Data for the C Series Type S
Types: C4E/S - Capacity (kg/h)* 2000-3000
Types: C5E/S - Capacity (kg/h)* 4000-5000
* These values are estimates. The effective throughput will depend on the properties of your specific product.
Similar fields of application

Do you have any questions about applications?
Would you like to know more?
Talk to us or write us!