High Beer Quality With Improved Efficiency
Mechanical separation technology in the manufacture of beer optimises yield while guaranteeing consistent beer quality. Flottweg decanters, separators and belt presses are used for various applications in beer manufacture:
Dewatering brewer's grains
Beer recovery from surplus yeast
Wort recovery from hot trub
Green beer separation
Clarification of beer before filtration
Defined turbidity adjustment
Reduction in brewery wastewater
Centrifuges Offer Numerous Advantages In The Manufacture Of Beer
Beer manufacture requires a good understanding of the brewing process. Every beer is unique, which means the brewing industry has specific requirements. Flottweg finds the optimum solution with tailor-made separation technology. Optimisation and standardisation of the brewing process using Flottweg decanters, separators and belt presses reveals additional savings potential:
Cost reduction during the manufacture of beer by optimisation of the production processes
Reduction in beer losses
Avoidance of fluctuations in the brewing process
Husbanding of natural resources
Maximum yield with consistent beer quality
Reduction in cleaning and wastewater costs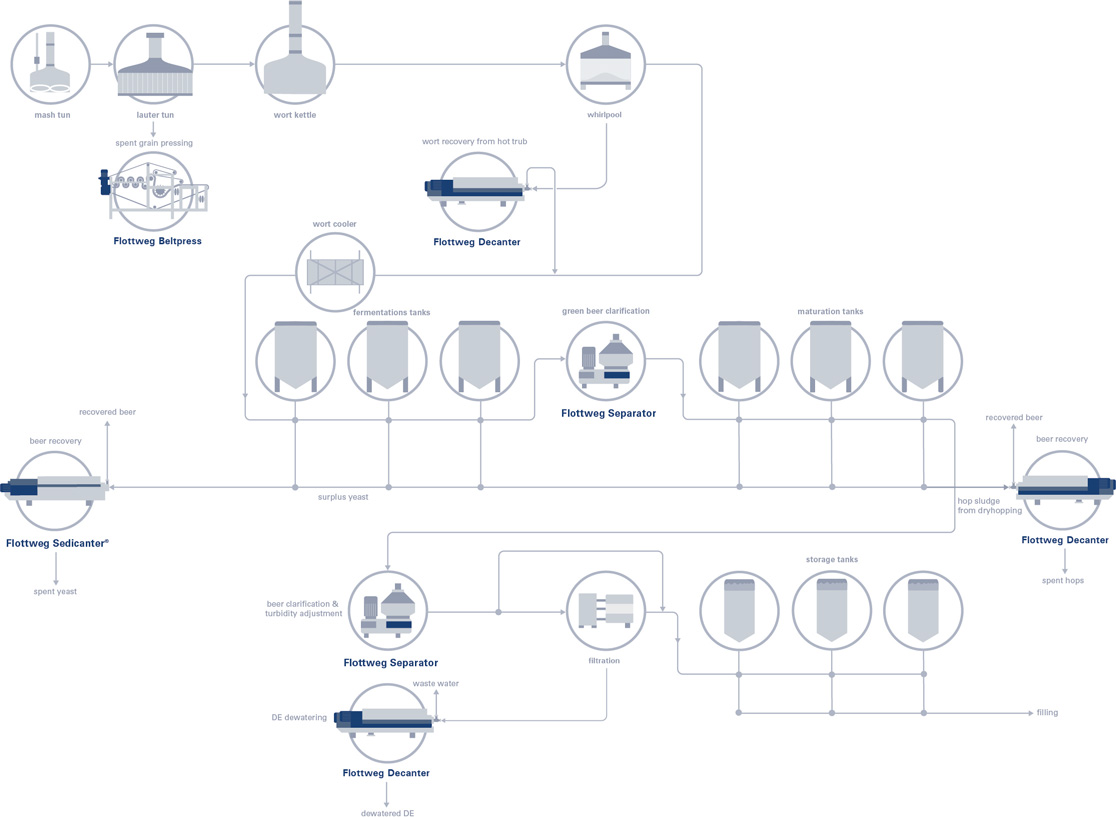 Flottweg - Your Partner For Beer Manufacture
Your beer quality and achieving an economical brewing process are highly important to us, as a traditional Bavarian company. Benefit from the advantages of working with an SME:
Working out individual separation solutions with in-house project planning by specialists
Simple integration into existing brewing processes and CIP systems is possible at any time
Made in Germany - centrifuges are exclusively manufactured in Germany by trained specialists
Many years of experience and in-depth technical knowledge of separation technology, the brewing industry and centrifuge production
The Right Centrifuge For Each Brewing Process
We know about the responsibility of the master brewer during beer manufacture. As a result, we always strive to meet the specific requirements of the breweries with our decanters, separators and belt presses as effectively as possible. Flottweg is certified to ISO 9001 and builds its products according to the latest technical standards:
Decanter for wort recovery from hot trub
Sedicanter® for beer recovery from surplus yeast
Separators for clarification before filtration, for green beer clarification and for defined turbidity adjustment
Belt presses for dewatering brewer's grains

Would you like to learn more about our solutions for the beverage industry and beverage production?
Talk to us or write to us!