Your Training Center: Individual and Realistically Practical
Do you have a decanter, Tricanter®, or separator from Flottweg? Want to know how you can get the best possible separation results and best preserve the availability and value of your machine?
To achieve all that, it's important for your employees to be specifically trained for the new machine and its individual components.
That's where Flottweg Academy comes in. We provide customized training to support our customers in getting the best from their separation processes.
What Are the Goals of Our Training?
The goal of our training is to train your employees specifically on the new machine and its individual components.
This is the basis for:
Improved process know-how
Maximizing output
Avoiding costly downtime
Increasing technical initiative
Improving internal workflows
Optimizing the maintenance process
Extending the machine's service life
Increasing system availability
Getting to know our headquarters in Vilsbiburg
An exchange of information with highly qualified instructors with experience in the field
How Do Our Training Courses Work?
Our Flottweg Academy in Vilsbiburg coordinate training courses individually with the requirements and scheduling needs of our customers. We then put together the right training program depending on the machine and the application.
What do you need to do when solid particles have blocked the intake or discharge of the machine? How are basic maintenance tasks carried out? What do you need to watch for when lubricating the individual assemblies? How do you find the cause of a fault?
At the end of the training, your employees will be able to answer all these questions and more!
Providing a Theoretical Basis
Plant tour and getting to know the Production area
Presentation of how the decanter, Tricanter®, and separators work
Principles and deeper knowledge of separation technology
Special details about centrifuge technology
Practical Training on the Decanter, Tricanter®, or Separator
Assembly and disassembly of the machine
Installing the SimpDrive®
Operating the decanter, Tricanter® or separator
Optimum setup for the machine
Correct procedure in case of faults and malfunctions
From our experience, optimum training success requires three days of training.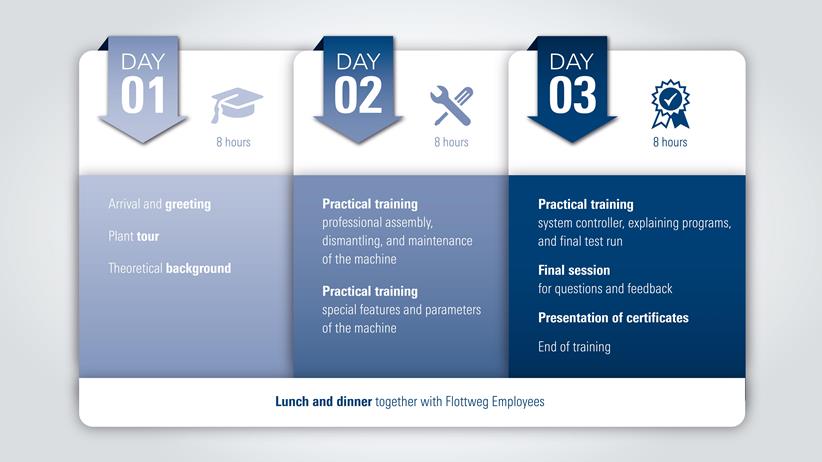 Our Trainer Expertise
Our trainers are experienced Flottweg employees. They have years of practical experience in centrifuge technology and are experts in our Flottweg Machines. They come from the areas of production, repair, international field sales, process technology, and marketing. As a result, they understand both the technical aspects of our machines as well as the requirements of customers and application areas.
Whether in sewage treatment, the extraction and processing of food oils, or in the beverage and food industry, our trainers know what's what.
Our Overall Package:
Timeframe: 3 days of 8 hours each
Location: Vilsbiburg, Germany
Training languages: German or English
Knowledge imparted: Parameters influencing separation and process optimization, assembly and dismantling of the machine, installing the SimpDrive®, operating and maintaining the decanter, Tricanter®, or separator.
All participants also receive our training documentation (digital and print) as well as a certificate of participation.
Lunch, alcohol-free beverages, coffee break, and snacks are also included in the training package
Upon request, we can provide support in organizing your transfer and lodging
Want to know more about our training center and our training courses? Drop us a line at academy@flottweg.com