Centrifuge technology for the separation of biomass
Fermentation processes are a central process step in industrial biotechnology. The chemical, pharmaceutical, and food industries rely on fermentation to transform bacteria, yeasts or molds into valuable products and materials.
Mechanical separation technology allows these fermentation products to be obtained from the fermentation broth.
Flottweg offers efficient, reliable, customer-specific processes for obtaining organic acids such as lactic acid, citric acid, and succinic acid, as well as other organic materials.
Our Flottweg Centrifuges are also used to clean nutrient media before their use in fermentation processes. The preparation and clarification of molasses and other sugar solutions is a central part of this process.
Centrifuge Technology for the Separation of Fermentation Products from Fermentation Broth
Flottweg Decanter Centrifuges first separate the biomass from the fermentation broth. Depending on the specific process and fermentation medium, they can achieve a dry substance value (DS) of 20 - 45%. For higher yields, the solid can be mashed again and taken through additional extraction steps.
The Flottweg Separator separates even the finest of solid particles out of the clarified fermentation broth.
To separate extremely fine, soft solids from the fermentation broth, Flottweg developed the Sedicanter®. This machine combines the advantages of the decanter and the separator for separating biomass.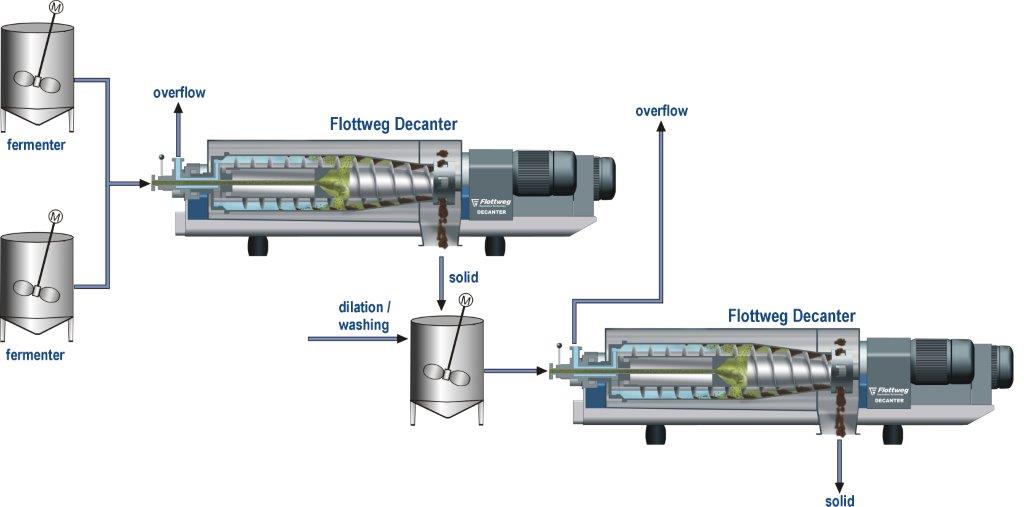 Our Flottweg Centrifuges at a Glance
Flottweg Decanters for the separation of solids from the fermentation broth
Flottweg Separators for subsequent treatment and separation of the finest solid particles from the clarified broth
Flottweg Sedicanter® for clarification of fermentation broths with solids consisting of soft sediments
The Advantages of our Centrifuge Technology:
Above-average dry substance values
Very high stability in throughput
Gas-tight variant for the use of solvents upon request
All parts that come into contact with the product made from high-quality stainless steel (rust and acid-resistant)
Continuous and automatic operation with minimum operating effort
All Flottweg Centrifuges are available in hygienic designs for use in biotechnology
Flottweg – Your Partner in the Separation of Biomass from Fermentation Broth
All Flottweg Machines and Systems stand for high quality, efficiency, and long service life. That's why Flottweg develops them exclusively in Germany at our central offices in Vilsbiburg.
We stand ready with advice and support for our customers in every process stage. To optimize your fermentation process even further, Flottweg also offers complete systems for mechanical separation technology.
Similar fields of application

Do you have any questions about applications?
Would you like to know more?
Talk to us or write us!