Manufacturing Fruit Juice, Direct Juice And Vegetable Juice
Economical production of fruit juice, direct juice and vegetable juice is characterised by more than just outstanding juice quality. It is just as important to achieve a high raw material yield with the lowest possible complexity for operation, maintenance and servicing of the centrifuges, belt presses and lines used.

The following advantages result from using Flottweg decanters, separators and belt presses in the manufacture of fruit juice, direct juice and vegetable juice:
Achieving a high yield of fruit juice, vegetable juice and direct juice by optimum juice extraction
Cost reduction in the entire beverage manufacturing process
Improvement in juice quality
Reduction in the settleable solid content
Optimum clarification of the fruit juices, vegetable juices and direct juices
Efficient processing of fruit, fruit pulp and vegetables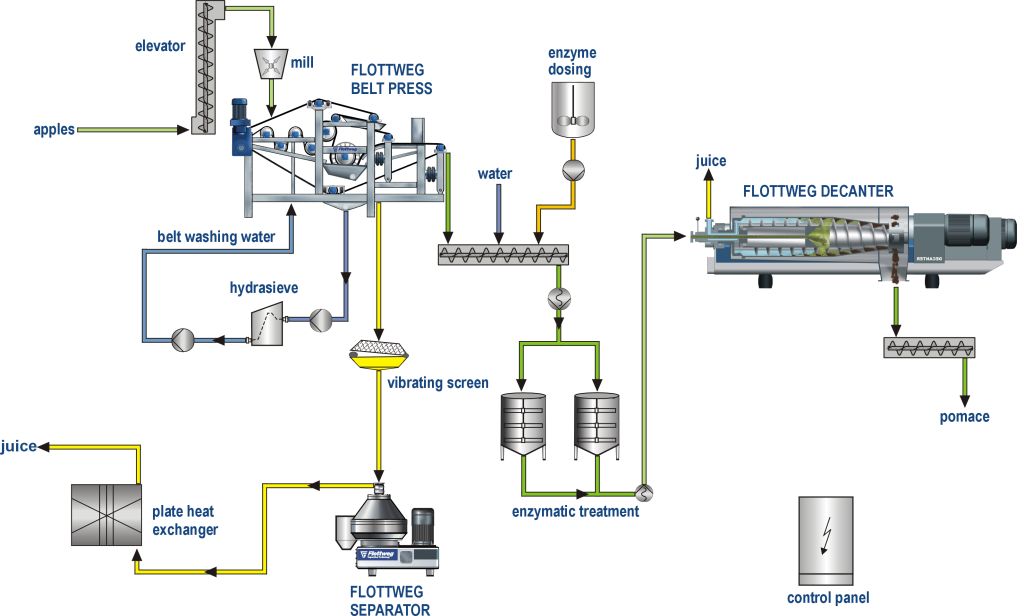 Outstanding Juice Quality By Having The Right Centrifuge Or Belt Press
For excellent juice quality, Flottweg supplies complete processing lines and machines for juice manufacture:
Belt press lines with pomace extraction for increasing yield
Decanter for separating off the solids from the pulp or juice
Separators for clarifying beverages and extracted juices
Flottweg belt presses, separators and decanters for fruit and vegetable processing have proven themselves as outstanding machines for flexible application in juice manufacture.
Flottweg - Your Strong Partner For Juice Manufacture
When it comes to healthy beverages, fruit and vegetable juices are the first choice. To enable the juices to have a healthy effect and achieve their full flavour, it is recommended for the vegetables and the fruits to be pressed and processed carefully. Flottweg has many years of experience in the beverage industry and thus offers numerous advantages:
Decanters, separators, belt presses and lines specifically adapted to the beverage industry
Many years of experience and relevant expertise in the use of centrifuges and belt presses in juice manufacture
A high standard of hygiene and the best product quality through consistent use of stainless steel - Made in Germany
Robust durability and a long service life of the machines
Clear design, easy access, simple cleaning, operation and maintenance
Similar fields of application

Would you like to learn more about our solutions for the beverage industry and beverage production?
Talk to us or write to us!