Industrial Centrifuges In The Field of Lupines Protein
Lupine seeds contain high-quality protein, which can be used to replace imported soy either in animal fodder or in human foods. Due to their particularly high-quality protein and a fat percentage of just a few percent, they are a particularly high-quality foodstuff.
How are Lupines Processed? – The Process
To ensure the sustainable economic success of lupine fractionation, the target yield for all fractions of the seed is over 90%. But how can "sensorily neutral" proteins be obtained from lupines?
First, the grains are shelled and rolled for form extremely thin flakes. Oil is then extracted from the flakes using supercritical CO2. At a pressure of over 74 bar and temperatures greater than 31 degrees Celsius, CO2 takes on liquid-like properties. The majority of the oils and their accompanying materials dissolve in it. The de-oiled flakes are then mashed in a stirring tanks, then taken to a Flottweg Decanter. The decanter separates the fiber from the proteins. The liquid phase contains bitter compounds, carbohydrates, sugar, and other soluble flavoring materials. The liquid phase is currently not used, and is therefore discarded in the waste water.
The solid phase, however, is pumped into another thank. There, its pH value is increased to render the proteins soluble. From there, the mash is put into another Flottweg Decanter. The centrifuge separates insoluble fibers from the solid phase out of the mixture. These are later used in the animal fodder industry. The clear phase is place into a final tank and acidified. Since the remaining dry substance is only a small volume, the proteins can be separated outstandingly well using a Flottweg Sedicanter®.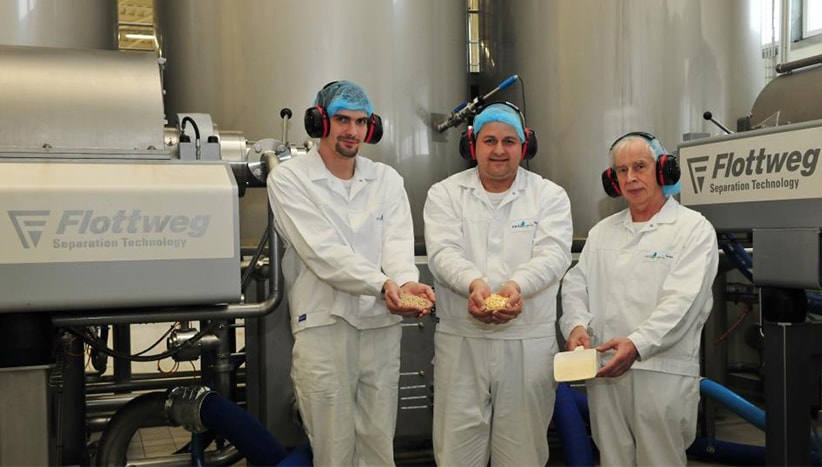 Processing Of Lupines with the Flottweg Sedicanter®
To process particularly soft sediments such as lupine protein, Flottweg produces a special decanter centrifuge. Soft or fluid solids are poorly suited for a standard decanter. Only the patented Flottweg Sedicanter® can get optimum results with this type of processing. Where a standard decanter achieves a maximum centrifugal acceleration of 6000 g, the Sedicanter®, at 10,000 g, breaks through to values that have heretofore only been possible with disk stack centrifuges.
Satisfied Customers – The Best Proof
"We decided on the Flottweg Sedicanter® because it combines the advantages of a disk stack centrifuges with those of a decanter. Thanks to its high speed, this machine gets outstanding separation results while simultaneously processing large quantities of solids. That gives Flottweg a clear distinguishing feature in the market," says our customer, justifying the purchase decision. "Flottweg also offers fast, affordable, competent customer service, who are at our side with support whenever we need it".
You want to know more about how industrial centrifuges actually work in the field of lupines protein? Please, do not hesitate to contact us.