Veronesi Separatori s.p.A. – Flottweg Italy
Company History
Veronesi Separatori was founded in 1906, and started out manufacturing pumps. Starting in the 1920's, the company increasingly transferred its activities to the development and production of separators. In 1988, the Italian separator manufacturer joined the Krauss-Maffei Group headquartered in Munich.
Since 1998, Veronesi Separatori has been part of the Flottweg Group, the leading company for the manufacture of industrial centrifuges.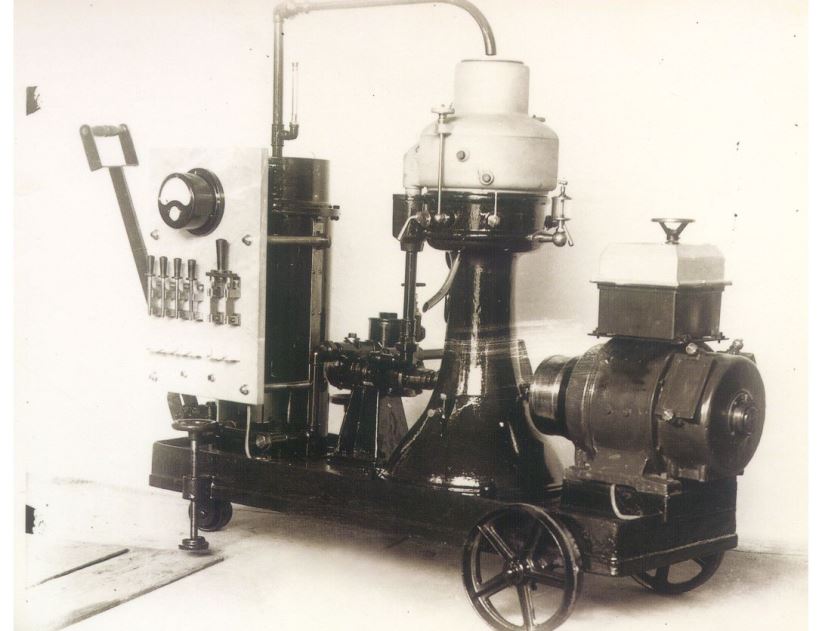 Awards and Certificates
Veronesi Separatori meets the highest of quality standards. The company was already certified according to the international DIN standard ISO 9001 in 1994.
The Bologna Industrial Association recognized Veronesi Separatori for its 100-year company anniversary in 2005.
Separation Technology for Italy
Since November, 2003, the German parent company Flottweg SE has taken over development and production of separators from its Italian subsidiary, which is located in Villanova di Castenaso (Bologna).
Veronesi Separatori is active in the marketing and sales of Flottweg Machines on the Italian market, as well as in customer service both before and after sale. The Flottweg Subsidiary also offers worldwide technical customer service for all Flottweg Centrifuges.
Our Flottweg Service in Italy has a team of seven competent people working in field sales, as service technicians, in the warehouse, and administration.
All services are provided by staff in close cooperation with the parent company Flottweg SE, headquartered near Munich, Germany.
Significant Projects in Numerous Areas
Veronesi Separatori has already carried out numerous significant projects in the following areas in the Italian market:
Juice and beverage manufacture
Starch industry and derivatives
Production of vegetable-based milk
Manufacture of vegetable and animal oils and fats
Processing of meat waste
Biotechnology
Chemical processes of various types
Products made of petroleum and its derivatives
Dewatering of industrial and sewage sludge
Soap industry
Your Contact At Flottweg in Italy:
Veronesi Separatori s.p.A.
Via Don Minzoni, 1
40055 Villanova di Castenaso
Bologna, Italy

Tel.: +39 051 6054511 (central)
Fax: +39 051 6053183
Email: info@veronesi.separatori.com
PEC: flottweg.italia@legalmail.it