Food Residue Processing and Recycling in Biogas Systems
About a third of the food produced in the world ends up as food residue and biowaste. Ever-growing amounts of food residue are collecting, especially in production, in restaurants, cafeterias, and supermarkets.
Aside from feeding these residues to animals, now largely prohibited, food residue can also be used as a raw material for energy production in biogas systems.
Food Residue Degreasing Using Centrifuges
Both decanter centrifuges and the Tricanter® are used by disposal companies for the recycling of food residue and kitchen waste.
Flottweg decanter centrifuges separate the oil from the raw materials.
This separated oil has a purity of over 98% and is recycled as grease. The yield is optimum: the oil portion in the centrifuge discharge is less than 1%.
The residue, consisting of water and solids, can be used as an energy source for biogas systems or further dewatered.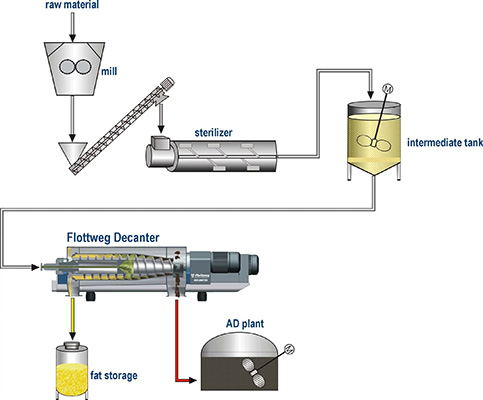 The Flottweg Tricanter® separates food residue into three phases in just a single step. In addition to the oil, the machine also extracts the solids from the water.
The robust construction of the centrifuge allow quantities and solids particles of different sizes to be separated without problems. It is used as an input material for biogas systems.
The separated wastewater can then be further processed in community sewage treatment plants.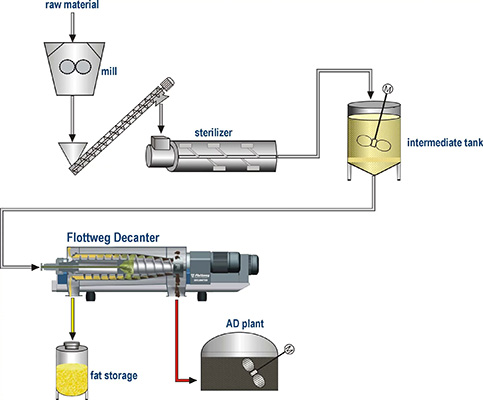 High Efficiency in the Degreasing of Food Residue with Flottweg Centrifuges
Optimization of bioreactor raw materials
Compliance with environmental protection laws
Recovery of valuable fats
Flottweg Is Your Partner in the Processing of Food Residue
Flottweg offers its customers not only the right centrifuges for the degreasing of food residue, but is also at their side with advice throughout the process.
Our centrifuges are perfect for use in food residue processing.
The Flottweg Simp Drive® system for high throughput and automatic control
Developed and produced in Germany
Special wear protection for longer lifetime
Interested in our solutions? Want to learn more? Take advantage of our contact form and get in touch. We're looking forward to your inquiries!
Similar fields of application

Do you have any questions about applications?
Would you like to know more?
Talk to us or write us!