Treatment Of Drilling Mud, Emulsions and Fluids With Decanter Centrifuges
Modern drilling emulsions form a closed circuit from which no solids emerge. As a result, everything that gets into the emulsion due to the drilling process must be separated out. While riddle screens and hydrocyclones separate coarse-grained particles, the decanter deals with small particles.
The Decanter Can Be Used In Various Applications Relating To Drilling Mud
Separation of drilling emulsions
Processing of drilling slurry
Processing of drilling muds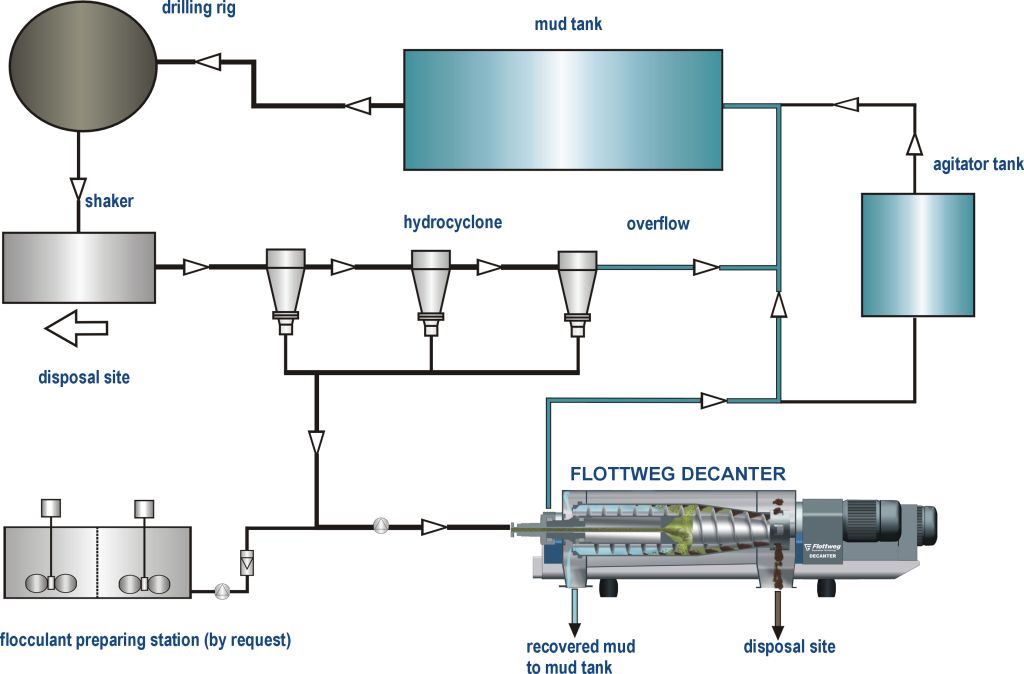 Your Advantages In Processing Drilling Mud and Emulsions:
Reduction in disposal costs
Reduction in the quantity of sludge in the closed system
Cost saving of up to 60% for maintenance and upkeep
Reduction in wear, especially on the slurry pump and drill bit
Extended sludge service life
Flottweg - Your Partner For Processing Drilling Mud and Emulsions:
Worldwide, a hundred decanters are already in use in the drilling slurry industry. Flottweg has a broad range of experience and numerous references that offer you decisive advantages:
Decanters specially adapted to the drilling slurry, with special wear protection
"Made in Germany" - Production of the decanters exclusively in Germany, with high-quality materials and trained specialists
Many years of experience and relevant specialist knowledge in the use of decanters for processing drilling slurry, drilling emulsions and drilling muds
Inexpensive, worldwide aftersales service and a comparatively low amount of maintenance work
Personal support, on-site service and project planning individually tailored to your requirements
Similar fields of application

Do you have any questions about applications?
Would you like to know more?
Talk to us or write us!