Decanter For Use In Steelworks
Flottweg decanters are used worldwide in the steel industry. They are an important component in cleaning exhaust gases and wastewater in steelworks.

Decanters in steelworks are used for cleaning exhaust gases and wastewater from various sources:
Furnace gas dedusting
Furnace gas cleaning
Converter gas dedusting
Scale slurry processing
Scale slurry separation
Pickling slurry processing
Sewage slurry processing
Water circuit cleaning
Cleaning wastewater recycles the cooling and wash water, allowing the solid residues to be used elsewhere. During cleaning of wastewater, furnace gases from the blast furnaces and exhaust gases from steel converters are cleaned in wet washers. The water circuit is completely cleaned.

Overall, Flottweg decanters represent a solution for steelworks that is as elegant as it is efficient. After all, what can be returned to the material cycle does not have to be expensively disposed of. This increases the efficiency of the system and reduces environmental pollution.
Reducing Operating Costs In Steelworks With The Decanter:
Reducing fresh water consumption
Reducing wear on system components such as pumps, etc.
Reduced operating requirements because of fully automatic operation
Less space requirement than filter systems
Reduction in maintenance work by 90%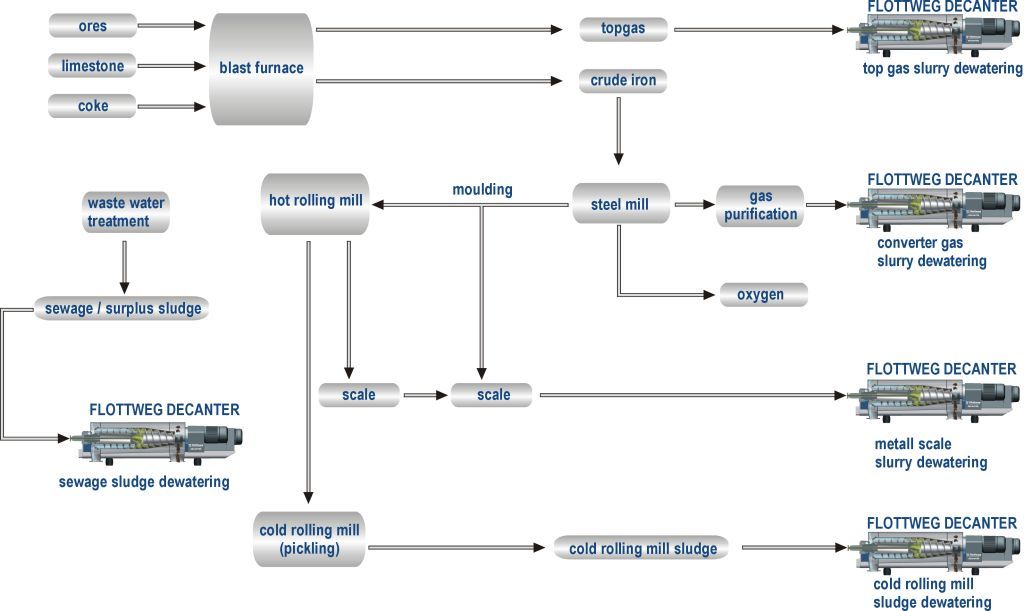 Advantages Of The Flottweg Decanter For Cleaning Wastewater And Exhaust Gases In Steelworks
Flottweg has been developing and producing centrifuges for 60 years, and is one of the world's leading decanter manufacturers. No other manufacturer of decanter centrifuges has so much experience in cleaning wastewater and exhaust gases in steelworks as Flottweg does.
Special Wear Protection
Optimum protection against wear is decisive for decanters used in steelworks. Our centrifuges are protected against wear by means of carbide plating, tungsten carbide and ceramic paste as well as being equipped with bushes made from silicon carbide ceramics for special applications. The service life of the wear protection in our centrifuges for dewatering residues from steel manufacture is generally in excess of 15,000 operating hours.
The Flottweg Simp-Drive®
The Flottweg Simp-Drive® regulates the differential speed according to the scroll torque. This means the Flottweg decanter automatically adapts to different load levels, and dewaters the steelworks sludge to achieve the maximum total dry solids.
Plant And System Construction
Specifically for applications in steelworks, we supply complete centrifuge systems comprising Flottweg decanters, pumps, intermediate tanks including suspension preparation, density regulation, flocculant dosing and control. We offer you an all-round peace of mind package and look after delivery, pipework, cabling and start-up.
Similar fields of application

Do you have any questions about applications?
Would you like to know more?
Talk to us or write us!