High Flexibility and Quality in the Production of Pea Starch and Pea Protein
Pea starch is becoming an alternative in the food and starch industries. It is taste-neutral and resistant to acid and heat treatment. Pea starch and pea protein are useful for:
Gelatin substitute for soups and desserts
Clean labeling (GMO) in the food industry
Vegetarian and vegan nutrition
Sports nutrition and protein shakes
Gluten-free foods
Biodegradable packaging as raw material
High Yield in Protein and Starch Production
A powerful process is crucial for high yield and quality in the production of pea starch and pea protein. Just as in the extraction of wheat starch or potato starch, decanter centrifuges are used in the various process stages.
Decanter Centrifuges are Flexible in Use for Pea Starch Extraction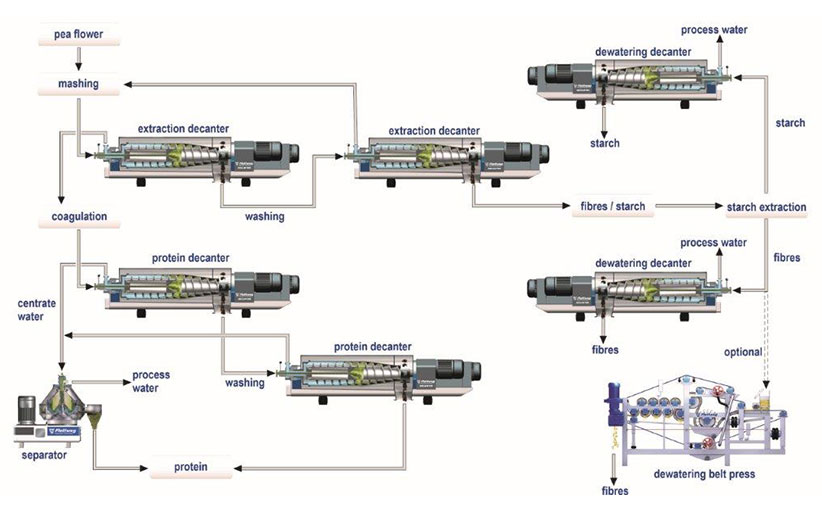 Mashing stage: Pea flour is mixed with water under the correct process conditions
Extraction stage: Decanter centrifuges separate the extracted protein solution from the starch/fiber mixture.
Fiber separation: Separation of fibers from starch by various extraction plants.
Protein recovery stage: Separation and washing of the pea protein out of the protein solution using decanter centrifuges. Protein recovery with decanters – get more information here.
Fiber drainage stage: Decanter centrifuges or belt presses also force water out of the pea fibers. The dry fibers are suitable for use as animal feed or for incineration.
Flottweg Decanters are Hygienically Optimized for the Production of Starch, Protein and Fibers
To be used in the food industry, pea starch and protein must be produced under hygienic process conditions. Flottweg decanters meet the hygienic standards and legal regulations of the food industry. All parts in contact with the product are made of high-quality stainless steel and are hygienically prepared. This makes them easy to clean. With CIP cleaning, the decanter is cleaned automatically and without prior disassembly. This saves time and money.
High Quantities in a Short Time With Flottweg Decanter Centrifuges for the Extraction Stage
Flottweg centrifuges for the separation of starch and fibers have a powerful drive. Flottweg's Simp Drive® automatically adapts the differential speed to the respective feed conditions during operation.
Get the Most out of Your Process With Flottweg Trials
The individual steps and processes in pea starch production require different approaches. Test machines from Flottweg ensure that you get the best out of your individual process. We test and analyze your products to find the optimal solution together.
As a partner, we advise our customers from the beginning to maintenance, training and optimization long after commissioning. Get in touch with our starch experts!
Similar fields of application

Do you have any questions about applications?
Would you like to know more?
Talk to us or write us!