Saving Fresh Water and Costs in Tailings Dewatering in the Mining Industry
During the processing of ores and minerals, fine-grained residues in the form of sludges, called tailings, occur in mining. Tailings are still frequently stored in large sedimentation basins or sludge ponds. There, they represent a great burden on the environment. The process water bound up in the tailings remains unused.
Modern separation technology solutions make it possible to process these sludges and recover the process water. This saves space, costs and the environment.
Dry Storage of Tailings for the Dismantling of Ore Sludge Basins
The dry storage of tailings is replacing the storage of tailings in sludge basins. Mining companies store the dewatered sludge on the ground.
Dry storage of tailings is particularly beneficial in hard-to-reach or confined areas, and in regions with a high earthquake risk:
Significant space savings compared to sludge tanks
Environmental risks (such as dam failure) are minimized
Permits the reuse of the purified process water
Complies with legal requirements in most countries
Decanter Centrifuges Win in Comparison
There are different systems on the market for dewatering tailings and sludges in mining. In addition to the chamber filter press and belt press, the decanter centrifuge is gaining increasing acceptance as a dewatering solution.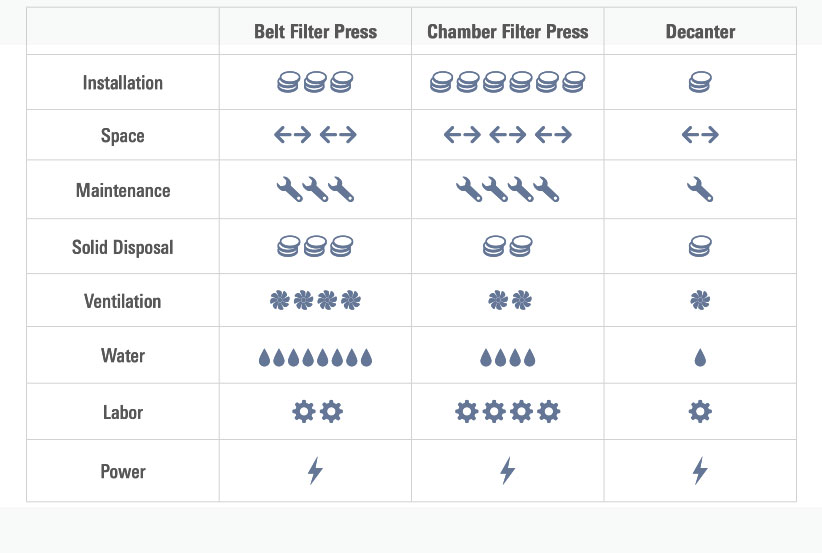 Minimum Fresh Water Consumption, Thanks to Optimum Dewatering Performance
Flottweg decanter centrifuges consume significantly less fresh water than belt presses and chamber filter presses.
Without flocculants, our decanters efficiently separate solid particles up to 10 µm. If operators use flocculants, it is possible to separate even smaller solids from the water.
This makes the process water used so clean that it can be returned to the process. As a result, operators save considerable amounts of fresh water.
Filter systems like belt presses and chamber filter presses rely on filter cloths or filter belts for dewatering the sludge. During prolonged use, deposits can form in the filter cloths and filter belts. This degrades the dewatering performance.
Decanter centrifuges are continuously operating systems designed for 24/7 operation. They require no filter cloths or filter belts. This ensures long-term, consistent dewatering performance.
Flottweg Decanters Fit in Even the Tightest of Spaces
Mining work is often carried out in hard-to-reach and confined spaces. The space needed for the drainage system used plays a decisive role. At the same capacity and throughput, belt presses and chamber filter presses require significantly more space than decanter centrifuges.
A hydraulic capacity of 100 m³/h and a solids load of 25,000 kg result in considerable weight differences, too:
Chamber filter press: 120 tons
Belt press: 65 tons
Flottweg centrifuge: 16 tons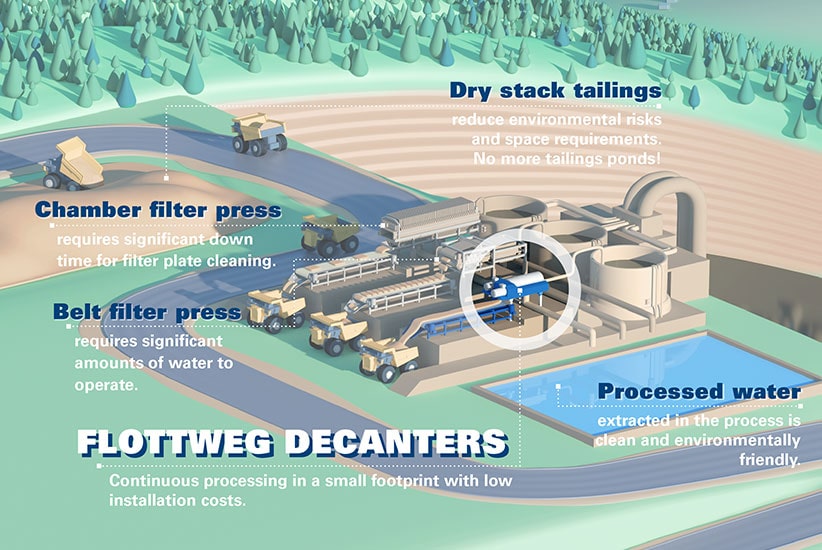 Made in Germany for a Long Service Life
We build our machines exclusively in Germany to ensure their optimum quality.
The quality of the materials used plays an especially important role in the mining sector. The abrasive components of the sludge attack any material in contact with the product. High-quality wear protection is therefore a must.
Special materials, coatings and additional measures ensure a long service life for Flottweg decanter centrifuges. Parts subject to wear, such as inlet bushings, can be easily replaced by Flottweg.
This reduces time and costs for maintenance and servicing over the entire service life of the machine.
Flottweg Decanter Centrifuges: A True Alternative to Conventional Solutions
Due to their low costs, low fresh water consumption and space requirements, as well as their contribution to environmental protection, decanter centrifuges are seeing increasing use in modern mining processes.
Take this opportunity to get in touch with our mining experts.
Similar fields of application

Do you have any questions about applications?
Would you like to know more?
Talk to us or write us!